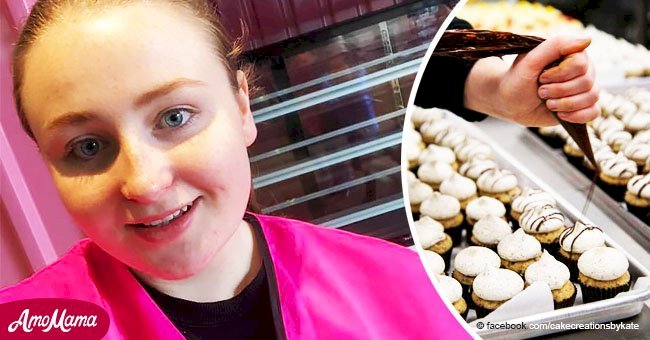 20-year-old woman set to make more than $1.6 million from baking cupcakes

A Melbourne woman has taken her passion for baking and turned it into a million dollar business. She will be opening her third retail store this weekend.
Katelyn Matheson is just 20 years old and she is already expecting to make $1.6 million dollars by year-end. She told 9NEWS the story behind her highly-successful cupcake business.
"I never imagined it to turn out to what it has now," Matheson said.
Follow us on Twitter for more @amomama_usa.
The baking-lover started practicing from a young age. Her now deceased grandmother Joan left her with the sound advice that she should continue to pursue her dreams against all odds.
Joan gave Matheson the nickname "Katie Cupcake" due to her love of the sweet treats. Matheson built on her passion by attending a baking course at William Angliss University shortly after high school.
"I haven't completed anything formally - I started studying a patisserie certification, but I got injured before I could complete the course."
Soon enough, Matheson was selling cupcakes at a Farmer's market and from her home via Facebook and Instagram in between her semesters. She used her youthful edge to make use of the popular platform.
Before long, customers were "lined up at the door on Friday night, waiting for their order," Matheson described.
"Some days we were doing up to 5000 cupcakes."
Within three months, Matheson's mother, Elizabeth, felt obliged to recommend that the business re-locate outside the home.
And so began "Cake Creations by Kate," the first retail outlet of Matheson which she opened in Point Cook. A second outlet soon followed in Craigieburn Central.
On Friday, another store will open at Melbourne's QV building. Matheson said "it's like a reality check when people do mention" the "incredible" success she's reached.
She explained that her family's assistance were essential parts of it. Her brother takes care of the accounting while her mother assists after having quit her job. They have 20 staff on board the thriving business.
Elizabeth said: "I'm one of those mum's that I will support my children whatever they do."
Matheson relates how her "dream was just to be able to work for [herself] and do something [she loves]." She does this by putting in sometimes 18-hour work days.
But she reaps many rewards. The young entrepreneur is set to stock her cupcakes at cafes all over Melbourne. She faces the challenge of being young and "managing the production side of things," according to the Daily Mail.
A younger entrepreneur has taken his talent to YouTube where he reviews toys at only seven years old. Ryan, the host of "Ryan ToysReview," reportedly made $11 million in revenue in 2017.
The young boy came up with the idea himself at only four years old. His parents allowed him to start and in July 2015, one review video with a box holding over 100 toys went viral.
The channel now has over 10 million subscribers, which means that $1 million in revenue is earned by the family per month.
Ryan reviews new toys as well as kids' foods. We're not sure if any cupcakes have been featured in his reviews, but one 19-year-old named Vega Blossom was covered in them back in June 2018.
When Blossom visited Designer Desserts in Valparaiso, Indiana for an easter sale, she was made to feel extremely embarrassed thanks to some rude comments coming from an older woman.
Blossom stood in line waiting for her turn to purchase some cupcakes. As she reached the front, the woman behind her told a friend "let's hope this fat [expletive] doesn't buy all the cupcakes."
In her Facebook post, Blossom ranted about the story. She explained that she felt so petty after the comment, she opted to buy every last one of the bakery's cupcakes.
She spent a total of $54 and was even given free cookies and chocolates by the considerate staff who heard the woman's despicable comments.
The store further decided to deliver cupcakes to Blossom at her workplace for two days. She expressed later how she was "thankful for these guys" after the situation that had almost brought her to tears.
Please fill in your e-mail so we can share with you our top stories!