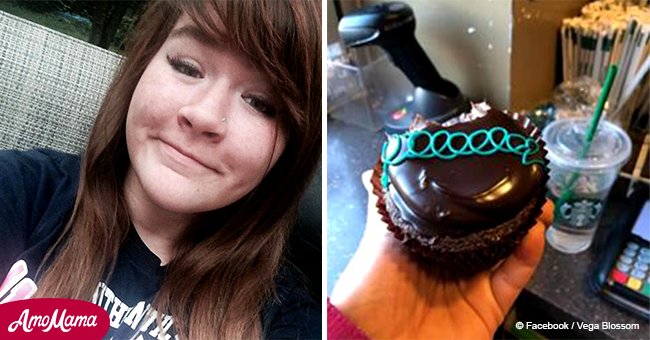 Teen buys every cupcake in the shop after customer shames her figure
19-year-old Vega Blossom was in her favorite bakery when she heard an older woman and her friend making a rude comment about her weight.
The teenager visited the Designer Desserts in Valparaiso, Indiana, during their Easter sale and shared her experience on Facebook on April 1, 2018.
She initially planned to buy six cupcakes but ended up spending $54 to get back at the woman who had taunted her.
Blossom was standing in line behind a woman who was taking a long time to complete her transaction at the counter. She then heard an older woman and her friend making rude comments.
The woman had her cake and it was the youngster's turn and she stepped up to the counter to place her order.
She then heard the women making an incredibly rude comment about her weight. The woman said she hoped the "fat" person in front of "doesn't buy all the cupcakes."
Blossom was hurt by the statement even as she began to place her order. But she decided she was going to stay strong and have the last laugh.
She ordered every single cupcake the bakery had, paying a total of $54 for 20 mega-sized cupcakes, each the size of three normal cupcakes.
She posted about how she reacted in a "petty" way at the woman at the store. The post garnered more than 89,000 likes and over 27,000 shares on Facebook.
Blossom said that the staff, who heard the unacceptable things told by the women, gave her extra cookies and chocolates for free.
She revealed that she wanted to cry when she first heard the comments from the women. She was shocked how unashamed the women were to talk about her weight and fat-shame her.
Blossom did not stop there. As she walked out with the cupcakes, she looked the pair straight in the eye and asked them to open the door for her because her hands were "a bit full."
One of the women opened the door for her before following her outside.
As the post became viral, Designer Desserts, decided to take action. Following her encounter at their bakery, they surprised Blossom with cupcakes delivered to her work to show their support.
She took to Facebook to thank the store. They delivered cupcakes for two days in a row. 'I am honestly so thankful for these guys and everything they have done for me.'
Please fill in your e-mail so we can share with you our top stories!