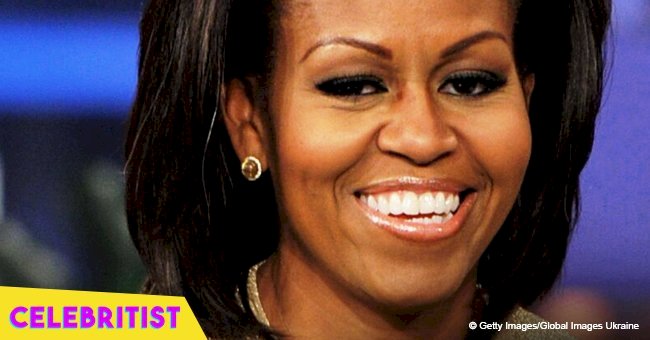 Michelle Obama stuns in striped outfit & loose curls in recent video for her book tour
Michelle Obama is a woman who has mastered the art of fusing intelligence with style. She proved on trend in a recent video where she managed to look stylish while revealing details of her upcoming book tour.
The former First Lady of the United States donned a striped blue outfit, paired with hoop earrings and nude makeup. She wore her hair in a side part and let it fall around her shoulders in loose curls.
"It's a big day for me because I am finished with my book," she began, immediately launching into the purpose of the video. "My memoir called 'Becoming' is coming out on November 13th and I can't wait to share it with the world."
A PROUD MOMENT SPRINKLED WITH FRIGHT
The global icon said in her caption that the book contained her "fuller story" which she'd also love to share with fans on her upcoming book tour.
"I'm proud because it is candid, it is honest, it is totally and utterly me. I'm also a little frightened because it is so candid and honest and open but I can't wait to share it with the world."
According to a schedule on the book's website, Obama's tour will commence on the 13th of November in Chicago and round off on December 17 in Dallas, Texas.
MAKING THE BIG ANNOUNCEMENTS
Obama announced the name of her memoir in February when she described the writing process as a "deeply personal experience." She also expressed a hope that her journey would encourage readers "to find the courage to become whoever they aspire to be."
In May, she took to Instagram to unveil the memoir's cover, an image shot by renowned portrait photographer Miller Mobley, and in the caption, restated her desire for "Becoming" to inspire others.
"As I prepare to share Becoming this fall, I hope you'll also think about your own story, and trust that it will help you become whoever you aspire to be. Your story is what you have, what you will always have. It is something to own,"
Obama said.
THE JOURNEY OF "BECOMING"
"Becoming" is an unfiltered recollection of the former first lady's life, as it trails her experiences from growing up on the South Side of Chicago to juggling the demands of motherhood with being an executive, to her time in the White House.
As she put so succinctly:
"It's the story of my humdrum plainness, my tiny victories, my lasting bruises, my ordinary hopes, and worries. It's the story of who I am, truly, and I'm proud of it—blemishes and all."
The memoir will contain rare photographs of the Obama family, as well as details of an untold story from the Obamas' wedding long before they entered the White House.
The highly anticipated book will be released in the US and Canada by the Crown Publishing Group, a division of Penguin Random House. In the UK, Australia, New Zealand, India, and South Africa, it will be released by Viking, an imprint of Penguin Books at Penguin Random House UK.
Please fill in your e-mail so we can share with you our top stories!