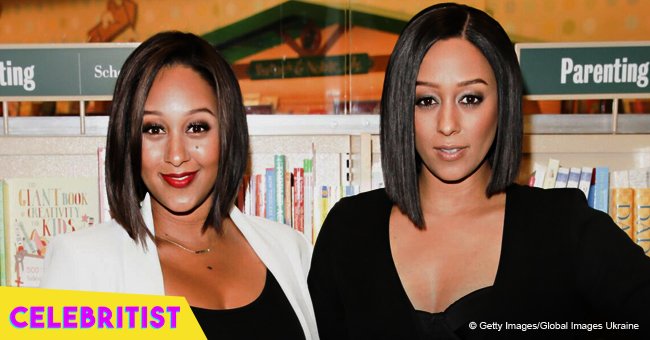 Tia and Tamera Mowry's black mother sizzles in pink swimsuit in throwback picture
Tia Mowry, the TV personality best known for "Sister, Sister," took to Instagram to share a "Throwback Thursday" of her mother and her twin sister, Tamera.
In the picture, Tia's mother, Darlene Mowry, was posing in a bright pink swimsuit and grey shorts while the twins were in front of her looking at the camera. Fans were left confused as it was tough to differentiate Tia from Tamera.
It was a challenging task as both girls had the same hairstyle. Things were even more difficult as Tia didn't tag her sister, so only a member of the Mowrys could tell the difference.
As soon as Tia uploaded that image, her followers took to the comment section to share their thoughts.
One of them was Instagram user @razysexycool83, who pointed out that Darlene had a beautiful body. User Sharon Elyse chimed in and said that the twins looked like their mother and that the entire family was "wonderful."
TIMOTHY MOWRY
Apart from posting a photo of her mother, Tia also uploaded one showing her father, Timothy. She uploaded that one for Memorial Day, explaining in the caption that both Timothy and Darlene served in the Army. Tia revealed that her father trained several people who went to the Gulf War.
PROTECTIVE PARENTS
Timothy and Darlene protectively raised their children due to their military background, but they did not hinder them from achieving their dreams, no matter what they were. Nowadays, most of their children have successful careers in the entertainment industry.
TAMERA'S HUSBAND, ADAM HOUSLEY
Tia's brother-in-law, Adam, was labeled as racist because he used to work for Fox News, whose primetime commentary are usually conservative-leaning.
Recently, Adam announced that he stopped working for the previously mentioned channel. However, it had nothing to do with the racist allegations against him but the time he has spent away from home throughout his 17 years with Fox News.
TAMERA DEFENDING HIM
As a way to clear all the rumors surrounding her husband, Tamera took her time during a segment of "The Real" to say that Adam was not racist.
"There are some people who think that my husband is racist because he worked for a certain channel. I'm gonna look in that camera right there and let everybody know my husband is not a racist [sic]," said Tamera.
At the moment, Tamera and Adam are focused on their family. They are raising two children, Aden, born in November 2012, and Ariah, born in July 2015.
Please fill in your e-mail so we can share with you our top stories!