5-year-old girl meets her icon Marjorie Harvey in adorable video from 'Steve TV Show'
Move over, Steve Harvey; Marjorie has a new best friend. Footage of five-year-old Hailey getting to meet Marjorie Harvey is one of the most adorable videos on the internet.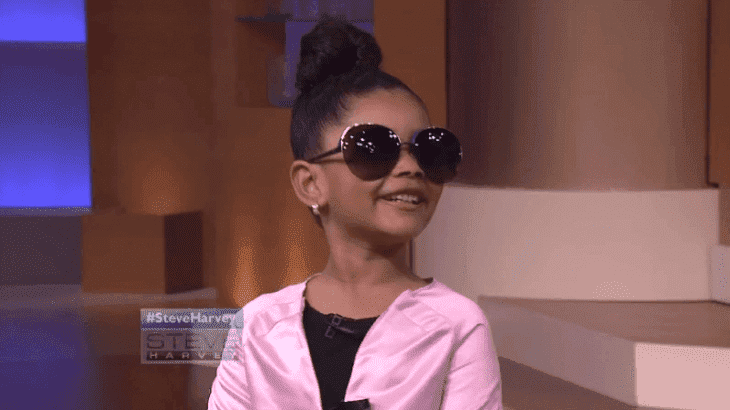 The clip begins with Steve on the set of his "Steve TV show," introducing his wife's fashion blog. "The Lady Couture" was founded by Marjorie as an avenue to share her love for fashion, and Steve beamed with pride as he listed her achievements:
"She's attracted more than 75,000 subscribers and more than one million views, and she's inspiring all kinds of ladies, including my next guest."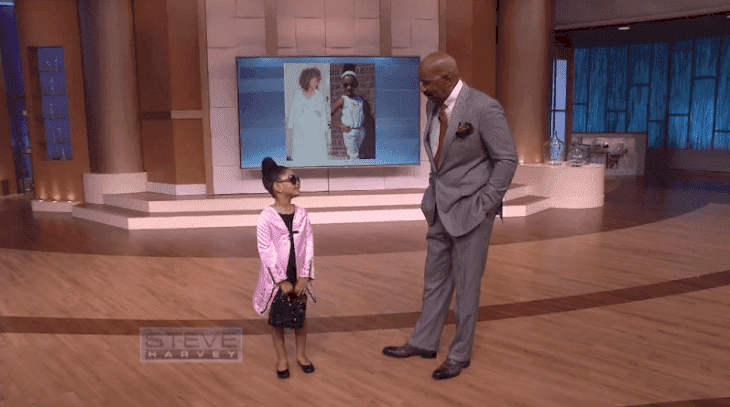 Hailey made her appearance in a stylish knee-length pink coat worn over a black dress. She accessorized with a matching black bag and a pair of flats. Her hair was pulled up in a neat bun, and oversized sunglasses completed the elegant ensemble.
When the talk show host asked her opinion on his outfit, Hailey paused to consider the request like any professional fashion critic would, and finally confessed:
"I'm not really like about boy clothes but… you're okay."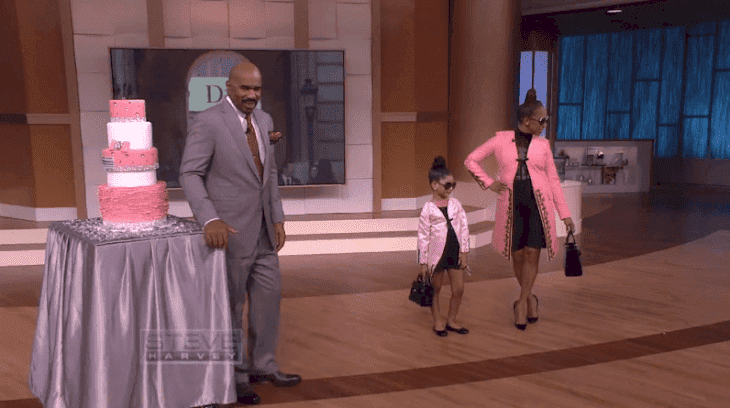 Hailey's birthday was coming up the next day, and Steve had the perfect surprise for her: a multi-tiered cake wheeled in by none other than Marjorie herself. The little fashionista shocked everyone when she went right past the cake to throw herself in Marjorie's arms.
What's even more adorable: they were twinning!
And Marjorie had even more surprises in store for her new best friend, treating her to an impromptu photoshoot and granting Hailey's request to spend a day in her [Marjorie's] closet.
The five-year-old successfully won over the heart of Steve's wife, along with over six million viewers according to YouTube.
Meanwhile, more recently, the couple became the subject of divorce rumors after some sources claimed Steve was spending too much time with reality star/momager Kris Jenner.
Steve and Marjorie dispelled the rumors, sharing Instagram photos that showed them going strong as always.
This duo has come a long way and has been through so much together, so it's not going to be that easy to get them down. They tied the knot in 2009 but have been friends as far back as 1986. In a 2010 interview with Essence, Marjorie gushed:
"I wish every woman can find a soulmate like I've been blessed to find. This is really my best friend. I can talk to my husband about any and everything; he can talk to me about any and everything."