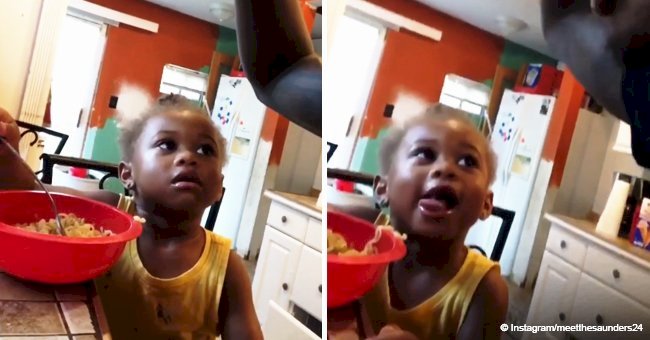 I'm not your friend,' Little girl hilariously scolds dad for eating her food in viral video

There is nothing that gets in the way between a little girl and her food - not even her own dad. That's exactly what this 2-year-old from Kansas City made sure of when her dad began eating her food.
Although the little girl began by asking her dad quite nicely not to eat her food, she snapped when he wouldn't stop. It's a given that people are quite possessive when it comes to food, and this two-year-old definitely feels the same way despite her young age.
The video of the girl, named Cali Amor Saunders, scolding her dad has gone viral. The hilarious video of her eating ramen is so pure, that it has caught the attention of people from all over the world.
At first, Cali asks her dad politely not to eat her noodles. However, when he doesn't listen, she begins to give him a serious scolding, including major side-eyes and even an end to their friendship.
The video is quite unclear, and given the inaudibility of the video, it's either she said "I'm not even finished eating" or "I'm not your friend either".
However, Cali's father revealed to Fox 5 that her daughter had indeed ended their friendship after he ate her food. When he was interviewed about the scenario, he clarified by saying that she was so angry, she said that she wasn't just upset, but she wasn't her dad's friend anymore either.
Despite her ramen rage, the doting dad confirms that all is well in the Saunders household, and their daughter has moved on with the fact that her dad ate her noodles. Now, though, he is more cautious about eating his daughter's food, especially since he does not want to upset his little princess like that ever again.
Please fill in your e-mail so we can share with you our top stories!