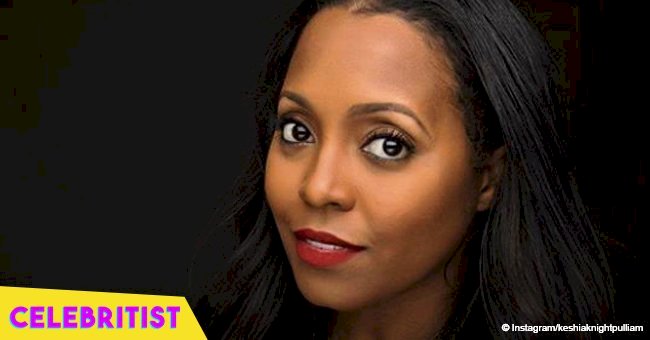 Keshia K. Pulliam steals hearts with photo of daughter in colorful turban & grey T-shirt

Former "Cosby" star Keshia Knight Pulliam shared a photo of her daughter, and it's unbelievably cute. Considering the challenges mother and child have faced together, it's no surprise Pulliam is keeping her close.
In the photo shared on Instagram, One-year-old Ella Grace donned a grey "Good Karma" t-shirt and a colorful African head-wrap. A hand, probably her mother's, held her up on one side as Ella Grace gave the camera a serious look.
"Mommy's big girl," Pulliam captioned the post.
Since welcoming her daughter in January 2017, it wasn't until two weeks ago that Pulliam showed her face to the world. The first-time mom has been fiercely protective of Ella Grace, and rightly so.
When the "Beauty Shop" actress gave birth to her daughter, she was in the middle of a nasty divorce battle with her estranged husband, former NFL player Ed Hartwell. Hartwell had filed for divorce in July 2016, only six months after their wedding and a few months into her pregnancy.
Worse still, there were rumors that she had cheated and that Hartwell wanted a paternity test to prove Pulliam's baby was his. Blindsided, the actress took to the media to defend herself:
"This is his baby. He wanted more children. He was excited once he found out that we were having a little girl. There was never a question about that. … [At] no point after we got pregnant was there an issue of the fact that we're having a baby."
Throughout the scandal, the mom-of-one never let it affect her love for Ella Grace. In celebration of the adorable girl's first birthday earlier in January, Pulliam penned an emotional note:
"I am so eternally grateful for my little Ella. I would not trade any of what I have gone thru for her. She is my greatest accomplishment & joy. She has inspired my smile even thru the tears. I am so proud she has chosen me to be her mommy…"
Pulliam and Hartwell eventually finalized their divorce in April. The "House of Payne" star got primary custody of their child while her Ex got visitation rights. The divorce was granted on the grounds of adultery and cruel treatment.
Meanwhile, Hartwell is expecting another child with his lover, the same woman he cheated on Pulliam with.
Please fill in your e-mail so we can share with you our top stories!