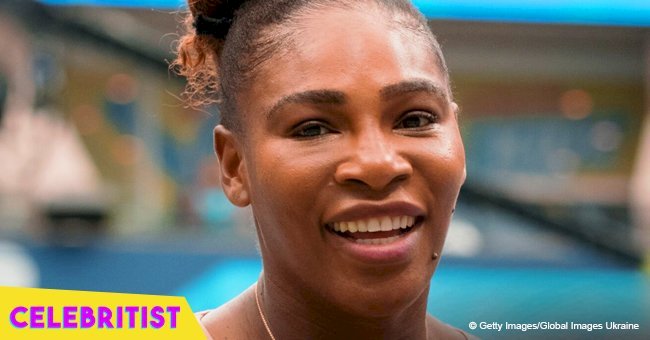 Serena Williams' daughter, 1, flaunts her thick hair in purple outfit & sparkling shoes in new pic
Alexis Olympia Ohanian is quite the stunner in recent pic shared to her Instagram account. The 1-year-old girl has been the catalyzer for her mom, Serena Williams, after her significant loss at the U.S Open and the controversy that followed soon after.
Olympia is growing fast, and fans are amazed at how cute she's getting as time passes. The adorable tot recently reached her first year of life, but since her mother is part of Jehovah Witnesses, and they don't celebrate birthdays, there was no party or massive celebration for the celebrity baby.
However, that doesn't mean she's not being spoiled with love and more by her parents. In the most recent pic shared to her Instagram account, which is managed by Serena and Alexis, Olympia is sitting on a couch and donning a cute purple onesie with sparkly silver shoes.
The adorable baby is looking straight into the camera and seems to be suppressing a smile. "I have shoes that sparkle," her parents captioned the picture.
After Olympia's birth, Serena faced one of the happiest but also difficult moments in her life, as she revealed she almost died after bringing her daughter to the world. The tennis champion confessed to CNN that after undergoing an emergency c-section, a pulmonary embolism caused a series of events that led her to the surgery room twice in a day.
She said:
"First my C-section wound popped open due to the intense coughing I endured as a result of the embolism. I returned to surgery, where the doctors found a large hematoma, a swelling of clotted blood, in my abdomen. And then I returned to the operating room for a procedure that prevents clots from traveling to my lungs. When I finally made it home to my family, I had to spend the first six weeks of motherhood in bed."
THE U.S OPEN AFTERMATH
However, Olympia has become Serena's number one priority and source of happiness, even above the tennis.
A few weeks ago, Williams was involved in a controversy at the U.S Open final for allegedly getting coaching from the sidelines, which is basically cheating, calling the empire of the game a "thief" after he penalized her a point, and ranting about sexism in the game.
Not only was she punished with an entire game, but she also lost the title against Naomi Osaka and received a fine of $17,000 for her faults.
Williams didn't comment on the game and the whole controversy in the aftermath. Instead, she posted to her Instagram a pair of pics with her daughter, relaxing with the baby girl and proving that there's nothing that can shake her happiness as long as she has Olympia.
Please fill in your e-mail so we can share with you our top stories!