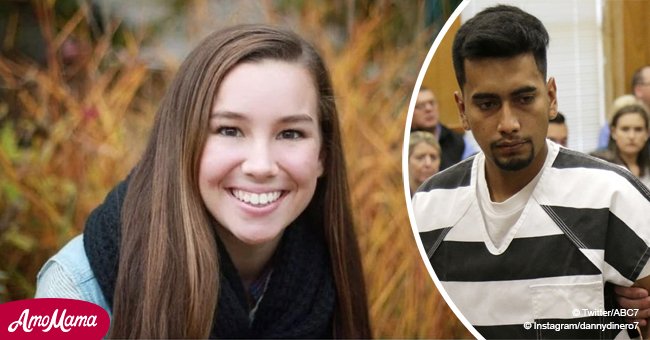 Mollie Tibbetts' accused killer pleads not guilty
On Wednesday, Cristhian Bahena Rivera appeared at Poweshiek County court for his arraignment. There he entered a not guilty plea.
He was accused of pursuing and killing college student Mollie Tibbetts in Iowa. The suspect was also responsible for showing authorities where her body was.
Cristhian Bahena Rivera, 24, was charged with first-degree murder in the death of University of Iowa student Mollie Tibbetts, 20. He pleaded not guilty before District Court Judge Joel Yates at the Poweshiek County Courthouse.
Bahena Rivera entered his plea through an interpreter. The suspect waived his right to have a trial within 90 days and the judge scheduled it for April 16, 2019.
For more on this story go to our Twitter account @amomama_usa. The whole process was quick and only lasted for 10 minutes.
One of Bahena Rivera's lawyers, Chad Frese, revealed that his client was nervous ahead of the hearing adding "but he's anxious to get this going."
The suspect faces life in prison without the possibility of parole if convicted. According to the police, Bahena Rivera told them he pursued Tibbetts in his car while she was jogging that night.
Then he parked, got out of the car and ran behind and alongside her. When the victim told him she was going to call the police, he allegedly "panicked and got mad."
The complaint stated:
"He then 'blocked' his 'memory' which is what he does when he gets very upset, and doesn't remember anything after that until he came to at an intersection."
An autopsy determined that Tibbetts had died of "multiple sharp force injuries." For the past four years, Bahena had worked at Yarrabee Farms, which is a nearby dairy farm.
He applied for the job by providing a state ID and Social Security card that was verified through the Social Security Administration's verification system. However, those were false forms of ID that did not identify him as Rivera.
Tibbetts was last heard from on July 18. After about a month a search eventually led the police to a home surveillance video that showed a car following a woman during her jog.
Bahena Rivera was arrested and he led officials to her body in a farm field in rural Poweshiek County near the town of Guernsey southeast of Brooklyn. The body was covered in cornstalks.
The suspect was charged with first-degree murder.
Please fill in your e-mail so we can share with you our top stories!