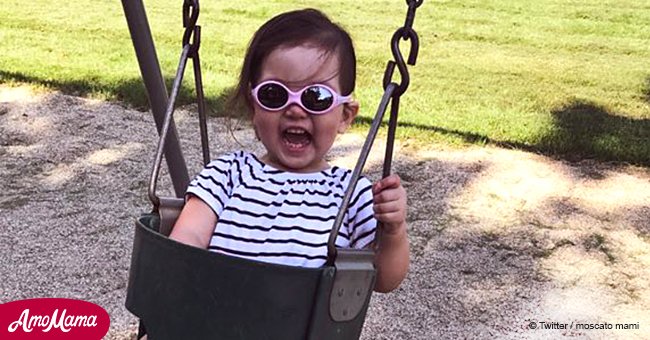 Two-year-old girl looks like a real 'Disney princess' thanks to a rare genetic condition

This adorable girl has the same eyes as a Disney princess, but unfortunately, it is due to a genetic condition that may affect her in the future.
This little angel has particularly large eyes, which draws people's attention when they see it. But although her eyes are beautiful, in reality, it is due to a condition that also makes them sensitive to light and very weak.
According to Daily Mail, the little two-year-old, Mehlani Dickerson, has a rare genetic disorder called Axenfeld-Rieger syndrome which affects only 200,000 people in the world and could make her blind someday.
Children born with Axenfeld-Rieger syndrome often have small or nearly non-existent irises, so their eyes appear to be missing the colored part of their eyes. Read more on our Twitter account @amomama_usa
Karina Martínez, Mehlani's mother, says that when the baby girl was born, everyone was impressed by the size of her eyes and a week after her birth the little girl was diagnosed with the disease.
The eyes of children suffering from the same Mehlani condition often have a distorted pupil, or even multiple pupils, and are particularly sensitive to developing glaucoma. This eye disease could cause blindness in a short time.
Fortunately, Melahni still maintains her very good ability to see even though her left eye has only the hints of iris in one corner and her right eye is entirely pupil.
To help the little one to take care of her sight, Karina must put sunglasses on her whenever Melahni goes outdoors. So the mother sometimes worries that her daughter would be a victim of bullying when she starts going to school and other children notice the particularity of their eyes.
"I worry about when she gets approached by any other kids about her eyes ... kids can be mean. But I teach her when people compliment her to say 'thank you' and smile," Karina told Daily Mail.
Another interesting news is the lucky birth of little Aiden, who came to the world on a very special day that makes it a case of one in 48 million births.
According to his mother Krysten Moreno, Aiden shared his birthday with both his mother and his grandmother Nadine Hugmeyer, all of them born on February 6.
This is an incredible coincidence and we are sure that the family will always throw the best party on such special and blessed day.
Please fill in your e-mail so we can share with you our top stories!