Fortuitous birth of baby was '1 in 48 million' according to doctor
When this woman became pregnant, her family focused to prepare everything for the arrival of the child. While it looked like a normal pregnancy, the grandmother had the feeling that it was something special.  
When Kyrsten Moreno from Chicago learned that she was expecting a child, she never imagined that her baby was going to follow a curious family tradition. The doctors were as surprised as the mother when he arrived.
Because, as Good Inside Us reported, Kyrsten's newborn son shared his birthday with both his mother and his grandmother Nadine Hugmeyer, all of them born on February 6. Read more on our Twitter account @amomama_usa
When little Aiden was still in the womb, Hugmeyer "told" him that he had to wait until his mother's birthday to continue with the family tradition.
"I literally looked at her belly and I'm like, 'Aiden, you can't come until Mommy's birthday'" Hugmeyer told Western Journal on February 13.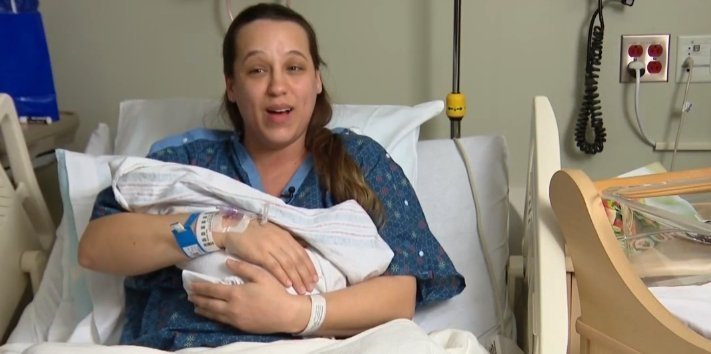 As Kyrsten shared with CBS, she was completely skeptical about the possibility for the coincidence that made her share her mother's birthday to occur once more with her baby.
Hugmeyer, on the other hand, trusted her intuition. "I don't think it was a coincidence. I think it was meant to be," said the proud grandmother.
After Aiden was born to satisfy his grandmother's wish, Krysten had to find an explanation she could believe, and she jokingly concluded that as she "stole" her mother's birthday, it was only fair that the same thing happened to her.
Dr. Diane Leonard, who helped deliver the baby at Amita Health couldn't believe what happened when she learned about this "tradition."
"I was like, 'Are you kidding me? Wait a minute!' Then I started thinking, 'Have I ever heard this before? No," recalled Leonard.
According to Fox, the probabilities of something like this to happen are one in 48 million. But when families are lucky enough to be part of this statistic, they often consider it a positive sign.
This case can be linked to the story of a baby girl born in 2015, named Anna Milli, who inherited the same exact birthmark from her mother and grandmother, leaving her a white streak of hair at the front.
The condition is known as Mallen Streak, and while it is considered a birth defect by many, some people rather think of it as a beauty mark and a sign of good luck.