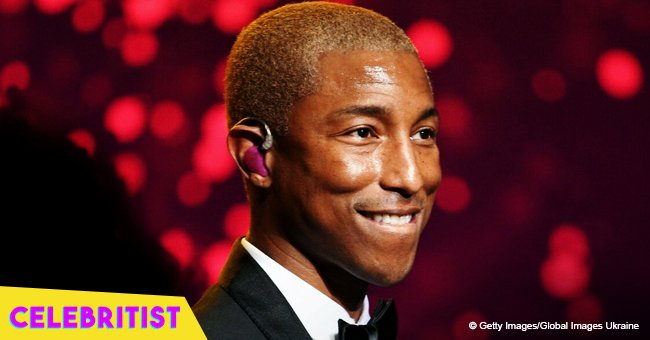 Pharrell Williams reveals he has a team of 12 nannies taking care of his triplets
Singer and record producer, Pharrell Williams, was invited to "Good Morning America" where he talked about different topics, including his team of 12 nurses.
During the segment of the show, he revealed that having triplets was not an easy task as they require a lot of care. He added that, apart from him, his wife Helen Lasichanh, their older son Rocket, and the couple's parents, a staff assisted them.
Pharrell added that the 12 nurses were in constant rotation, pointing out that they have about three in the morning, two at night, and so on. The singer pointed out that Rocket was very helpful and such "an amazing big brother."
His revelation about their staff came after he praised his wife for being strong despite all the circumstances that she has faced.
SHE TAKES CARE OF THE DIAPERS
Aside from having to give birth to three children all in one go, she is also a part of the US Navy Special Forces, particularly SEAL Team Six. Helen is the one who takes care of the diapers most of the time, too.
HELEN CONTROLS EVERYTHING
Pharrell, who has his clothing line, pointed out that he didn't play an important role in the triplets' outfits as Helen does it. "Again, SEAL Team Six," the singer reiterated.
SYNCHRONIZED CRIES
The man said that even though there are several people around the toddlers, he has done his best to get a fair share of parenting. One of the most memorable things the children do according to him is how they tend to synchronize their cries.
WHEN WERE THEY BORN?
Helen and Pharrell welcomed their triplets in January 2017, only three months after they confirmed they were expecting children.
PHARRELL'S YELLOW BALL
Earlier this month, the producer teamed up with American Express to throw the first Yellow Ball at the Brooklyn Museum, which benefitted the Young Audiences Arts for Learning.
During a short interview Pharrell had with People, he addressed the cause of the event, and his thoughts about why protecting young artists was so important.
"Waking up one day and realizing that there's something that you love to do — we need to protect that. We want people to recognize that you have to protect the artist at all costs," admitted the rapper.
Pharrell added that people have to protect the preservation of those worlds that foster arts education. "Everything that's man-made was someone's epiphany, and that process has to be protected."
Please fill in your e-mail so we can share with you our top stories!