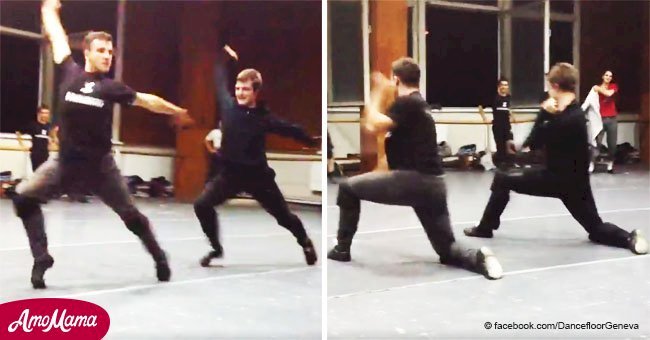 Amazing performance of the Georgian National Ballet
A video of the warm-up performed by the National Georgian Ballet goes viral.
Traditional ballet lovers are astounded by a video posted by DanceFloor Geneva on Facebook which has gone viral and has garnered over 2,500,000 views.
The video is captioned tongue-in-cheek as "Quick Warm Up for Beginners" and depicts the dancers from the company warming up for rehearsal in an incredibly athletic and energetic performance.
The National Georgian Ballet has successfully fused traditional dance with classical ballet and contemporary music giving the genre a breathtaking vitality that is capturing audiences all over the world.
"Beginner?!? Ok I don't usually like this kinda stuff, but I watched this on repeat a few times lol. Those guys were awesome! If that's beginner, PLEASE show me advanced."
Devin Martin, DanceFloor Geneva, September 20, 2018.
A RADICAL DEPARTURE FROM TRADITIONAL BALLET
The Georgian National Ballet Company was founded in 1945, after the end of WWII by Iliko Sukhishvili and Nino Ramishvili as the first state dance company.
73 years later, the original Company is sailing into unchartered waters, fusing Georgian folk dance with classical ballet and performing it to the sound of Young Georgian Lolitaz, a Georgian indie rock band.
THE RUSSIAN TRADITION OF CLASSICAL BALLET
Ballet originated in the 15th century during the Italian Renaissance and was brought to France in 1553 by Catherine de' Medici, who would become Queen of France through her marriage to Henry II. In 1830, Ballet became a popular entertainment in Russia in the early 1800's and 1909 the Ballets Russes company took Europe by storm. Russian - later Soviet - ballet became the benchmark for excellence and dazzling innovation in the world of classical dance.
BRINGING THE COMPANY INTO A NEW ERA OF INNOVATION
The children, grandchildren, and greatgrandchildren of founders Nino Ramishvili and Iliko Sukhishvili have brought the Company into a new era.
Nino Ramishvili was a soloist until 1972, and now she is the chief choreographer and the matriarch of The Georgian National Ballet. Iliko Sukhishvili Jr. is a choreographer and his sister Nino Sukhishvili is a deputy-manager and costume designer.
THE TRIUMPHANT FUSION OF FOLK AND BALLET
The Georgian National Ballet brought its controversial dance to the Albert Hall, The Coliseum, The Metropolitan Opera, Madison Square. The supreme triumph was to perform at the prestigious La Scala in Milan in 1967, the first and only non-classical company to ever do so. At the end of the performance, the exigent Milanese Ballet aficionados had the company come back for an unprecedented 14 curtain calls.
The passion for the dance is a something that transverses language and cultural barriers and sometimes overcomes physical disabilities all for the love of performing.
In 1996 American dancer Christa Calitz fell off a bus and was dragged under the moving vehicle and her leg was shattered.
Calitz was a talented aspiring dancer who dreamed of becoming a professional and teaching Ballet, but. her doctors told her that her chances of ever walking again were slim.
Calitz's foot had to be reattached and she had extensive surgery to the veins and nerves in her leg. Her surgeon was skeptical and believed she might even lose her leg to amputation, due to the terrible underlying damage.
Calitz spent two years undergoing grueling rounds of reconstruction, followed by an agonizing rehabilitation process – she walked again, but it was to be 21 years before she danced her beloved Ballet again.
Calitz started fitness training in 2015, nearly 20 years after the accident, and started dancing Ballet again when her three-year-old daughter joined dance classes, in September 2017.
In a related story, a criminal lawyer stepped onto the stage and joined his nervous 2-year-old daughter Isabella in a ballet performance.
Please fill in your e-mail so we can share with you our top stories!