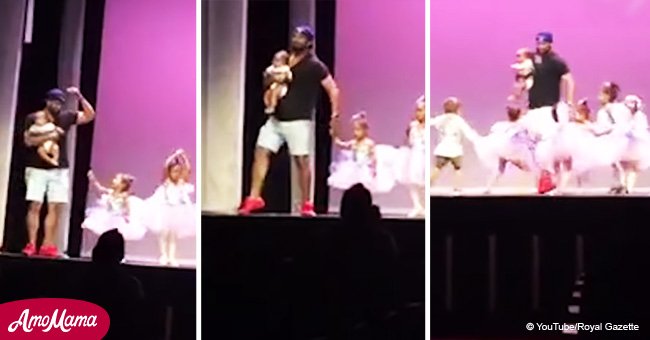 Dad goes viral after joining daughter's ballet performance to calm her nerves (video)
Marc Daniels' daughter broke down onstage, so he came to her rescue. And the video has gone viral.
On May 29, 2018, Marc's 2-year-old daughter Isabella started to cry as she stepped on stage during a dress-rehearsal for her first ballet recital in the City of Hamilton, Bermuda.
Though he tried to calm her from the wings at first, she was still inconsolable.
The criminal lawyer then stepped onto the stage while holding his baby daughter Suri. He took Isabella's hand and began following the steps the teacher was doing.
His daughter calmed right down and they performed the dance together.
The adorable moment was captured on video and the internet went wild.
Marc told Royal Gazette: "I was holding my youngest daughter, Suri, while my wife was downstairs helping backstage. Suddenly, Che Barker came running up and said my daughter, Isabella, was having a little breakdown."
"She was crying and calling for Daddy. I went downstairs to see her, but they were just about to go on stage so there was not a lot of time to comfort her," he added.
The father-of-three said he just wanted to make sure his daughter was calm and felt comfortable.
"Now I have people approach me saying I have gone viral. Some people have been doing pirouettes when they see me walking in town," he said.
According to Marc, he had no dance training and that he was only concerned about making his daughter feel at ease.
The next day, his wife told him that the video went viral.
"When I saw it, I had a good chuckle. I thought maybe one day we will go on one of those TV shows in the US," Marc said. "Ironically, the following day I received an e-mail from a viral video show who wanted to do an interview with me. It has been awesome for the girls."
Please fill in your e-mail so we can share with you our top stories!