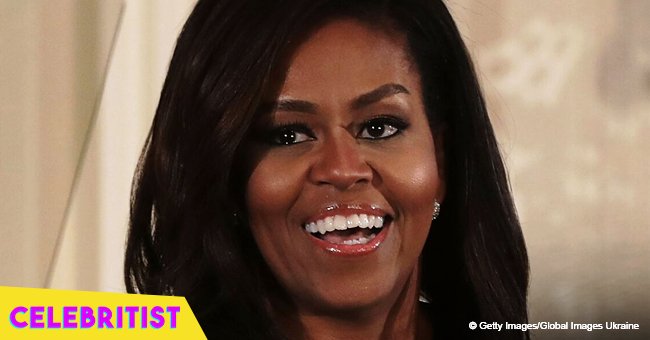 Michelle Obama stuns in white robe and shows off her 'kissy face' in recent picture
The former first lady exudes model vibes in her latest photo where her lips take center stage.
Former First Lady Michelle Obama may no longer be walking the halls of the White House but anything she does is still newsworthy.
Even when she's just posing with a "kissy face" after a make-up session.
Since leaving the Oval Office, Michelle has remained a fixture in the news, most of the time for her continuous work with her different causes.
In a recent Instagram post by the Oprah Magazine, it's her playful nature that's earned her the media mileage.
In the photo, she's wearing a robe and a newly made-up face courtesy of Carla Ray who originally posted the snap.
Michelle strikes a "kissy pose" alongside a male friend. Her pouty-lipped expression and hand-in-waist stance playfully say she has what it takes to be a supermodel.
"Former First Lady #MichelleObama is bringing back the kissy face," the magazine wrote. And we say, she's bringing in a sexy vibe too.
Michelle just recently graced the MindBody Bold Conference in San Diego where she spoke about her passion for fitness as well as her upcoming book "Becoming."
She recalled details about her daughters' last night at the White House when she asked them to order everything they wanted from the kitchen. Of course, the bill was later forwarded to her.
She also named the famous personalities she fondly remembered meeting during her period as the first lady including Aretha Franklin, Nelson Mandela, Queen Elizabeth, and the Pope.
When not in the limelight or working on her passions, Michelle continues to keep herself busy with leisure activities.
Last month, she let her hair down in Spain while on vacation. The 54-year-old allowed her usually straightened hair to showcase its natural curls as she tried to keep a low profile with a hat and sunglasses.
She was there as a guest of Ambassador James Costos and his partner, Michael Smith. They were spotted having lunch together.
Please fill in your e-mail so we can share with you our top stories!