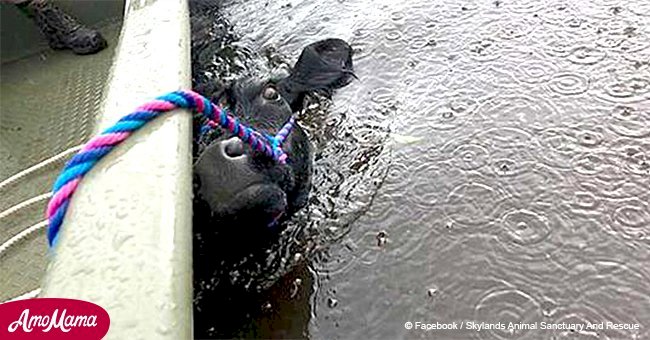 People noticed a helpless cow during floods and rushed to help
A helpless cow was spotted by a group of men, who were rescuing animals, following the catastrophe caused by Hurricane Florence in North Carolina. They worked together to save the poor animal.
Mike Stura, the founder of Skylands Animal Sanctuary and Rescue, traveled from New Jersey to North Carolina in his truck to rescue some animals.
Stura, along with his two friends, Todd Friedman and Dave Miller, had just saved three puppies when someone showed him a video of struggling cows, swimming through surging floodwaters nearby.
With the help of a local girl named Caroline Byrd, who served as their guide, the three men went to where the cows were using their boat.
Follow us on Twitter at AmoMama USA for more details and updates.
Upon arrival, most of the cows had already reached their owner's elevated front porch safely. Although, there was one cow that was still struggling to keep afloat in front of the flooded barn.
Speaking with the Dodo, Stura said, "We chased her and got a halter on her. To keep her head above the water, we latched her to the boat so we could bring her with us."
With Stura's truck parked a mile away, they had a hard time getting the cow to safety. There was also a moment when their motor failed, but it was fortunate that a man came with his jet ski and dragged them through the waters.
According to Stura, the hardest part of the entire rescue mission was getting the cow out of the water since it had already lost most of its energy from swimming.
"Once we got up close enough to where the water was no longer supporting her body weight, she could no longer get herself up off the ground. So we had to try and lift her … and she's a good size," explained Stura.
With the help of the locals, the three men were eventually able to lift the poor cow out of the water.
"She would cry and I'd lift her, and she would get her rear end up, but she just couldn't totally stand. We got some straps beneath her and some halters on her face … and there was about eight of us, lifting and pulling on her, and we just kind of heaved her up into the trailer."
Once in the trailer, the cow immediately collapsed and was able to rest in safety. Stura tried to talk to the cow and told it that everything was going to be okay.
Stura contacted the owner of the property where the cow was rescued. They spoke on the phone, and the owner said he could keep the cows he managed to save.
He took the rescued cow back home to New Jersey in his sanctuary, where another rescued cow named Babe has been staying since 2017.
Babe was saved from Hurricane Harvey in the previous year, and Stura had been hoping that the two cows will bond together since they are of the same breed.
Meanwhile, another kind-hearted man went out of his way to help the poor animals that have been affected by the hurricane.
Tony Alsup from Tennessee bought an old school bus so he can rescue shelter pets. He purchased the vehicle in 2017 to evacuate pets in Texas before Hurricane Harvey.
With Hurricane Florence affecting South Carolina, Alsup felt the need to offer his help once again.
Please fill in your e-mail so we can share with you our top stories!