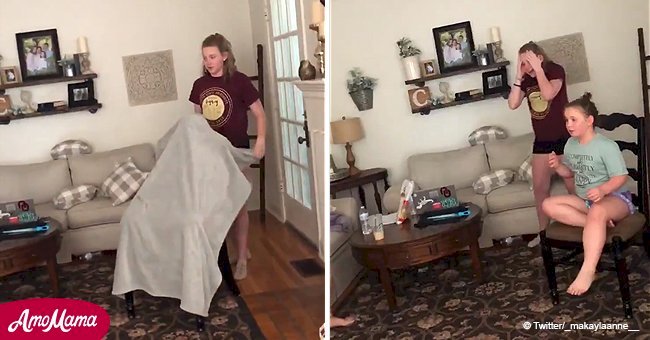 Viral prank aimed at children could cause them serious harm, experts warn

Pranks can be fun, but there are other sides to it.
On the 'Magic for Humans' reality show, host and magician Justin Willman do an 'invisibility prank'.
He convinces an adult man he had turned invisible, and the idea goes viral.
Read more on our Twitter account @amomama_usa.
HOW IT WORKS
Pre-shot photos of the empty chair the person being pranked will sit in, make sure that everyone around is involved.
Once in the chair, pictures are taken, but only the ones taken beforehand are shown as evidence that the person has become invisible.
A mother decided to prank her son on his 6th birthday by giving his gift to him in an unusual way. To watch more on this follow here.
THE REACTION
Many parents have posted how they pranked their children. With mixed reactions.
Some children showing their confusion while others have mixed reaction of shock, sadness, and disbelief.
THINK TWICE BEFORE PRANKING
The clinical director of Child & Family Treatment, a psychological counseling service in Lincoln Park and Skokie says:
"If a child has a narrative about him- or herself that they see as unworthy or mockable, then this video won't be good for that self-image," Sova said. "It can decrease the sense of self-worth within the family."
When a posted prank goes viral, random viewers can laugh at the child's reaction which can lead to self-worth issues.
In essence, the child is mocked, humiliated and laughed at which can be damaging to the child.
Parents should be mindful of what effect this could have on their child.
WHAT OTHERS HAVE TO SAY
Mixed reactions are to be expected, what other pranksters had to say and how they pranked family members can be seen was varied. Click
here
to see the mixed reaction.
Please fill in your e-mail so we can share with you our top stories!