Son returns home early from Afghanistan and his dad's reaction goes viral
A soldier named Mason delighted his father with a surprise homecoming from Afghanistan.
As shown in a viral YouTube video, Mason comes to his father's workplace in his full uniform.
He creeps around the corner of the building and asks a receptionist to keep her voice low, so his father will not bust his surprise. "Oh my God," she utters upon seeing Mason, who has been deployed in Afghanistan for more than a year.
Mason then asks the receptionist what his father is doing. "He's with the reps. Go ahead," she tells him. Follow us on our Twitter account, @amomama_usa, to learn more and scroll down to watch the video below.
"This reunion helped a lot of us gain some prospective on incidents that occurred during our deployment. These guys are my heroes and this organization allowed some of us they may have never been financially able to drive or fly to reunite, to come together 12 years later. " pic.twitter.com/YoZl5hnCiD

— Reuniting After War (@vet_reunions) July 26, 2018
When he reaches his father's office, Mason knocks loudly. His father's muffled voice can be heard behind the door inquiring who has been disrupting the meeting.
DUMBFOUNDED FATHER
The soldier knocks again when no one comes to open the door.
Finally, his father opens the door. The old man is dumbfounded to see his son.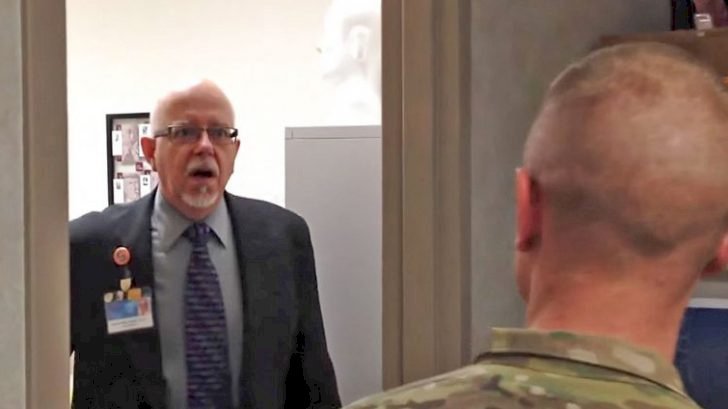 "Mason!" he exclaims, breaking down into tears. The father and son then share a tight, emotional hug.
"I can't believe you," Mason's father says as he hugs his son tighter. Co-workers then begin to clear the room to give the father and son private moments.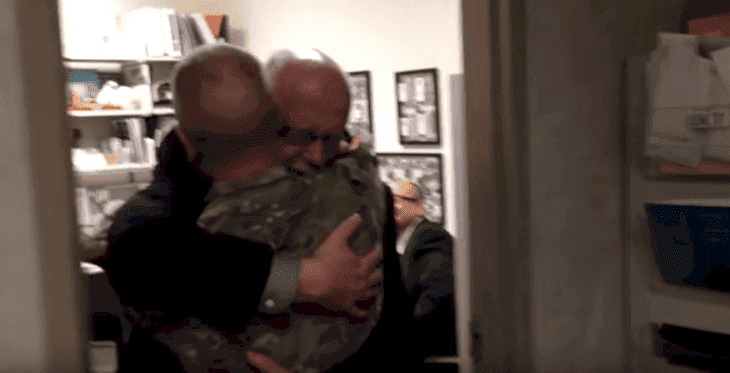 "This meeting is over," one of them says with a chuckle. "There are more important things going on in this room."
After this touching reunion with his father, Mason also surprised his mother and sister.
WARMING TONS OF HEARTS
The viral clip has amassed more than seven million views since it was posted on March 18, 2014.
"My manly eyes are dropping some sort of liquid," commented one YouTube user.
Another emotional reunion was that of a military mother returning to see her two-year-old son after a long deployment in the Middle East.
Air Force Staff Sergeant Chelsey Speicher had been deployed in Jordan for six months, so emotions overflowed when she finally got to hug her son, Bennet, again.
The touching reunion was captured in a video that quickly went viral.