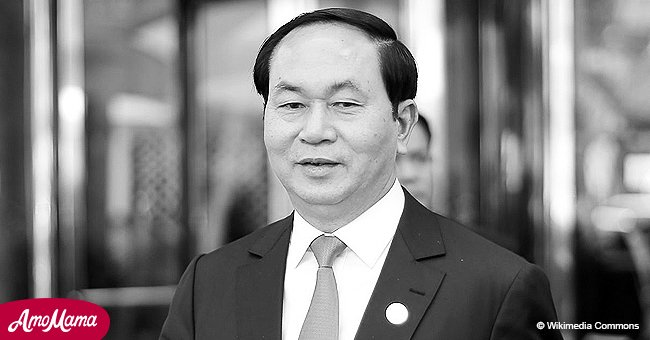 Vietnamese President, 61, dies after a serious illness leaving behind his wife and 2 sons
On Friday morning, reports came in that Vietnam President Tran Dai Quang had died. He was said to have died from a "serious Illness."
He began showing symptoms of being ill in June last year. Since then, he was treated in Japan six times before succumbing to his death.
Vietnam President Tran Dai Quang, 61, died in a military hospital in Hanoi. A Vietnam Television reported that he died from a "serious illness despite efforts by domestic and international doctors and professors."
He is survived by his wife and two sons. The president was one of the country's top three leaders although he mostly had ceremonial duties.
For more on this story go to our Twitter account @amomama_usa. The Vietnamese power structure also includes the general secretary of the party, the prime minister, and the head of the National Assembly.
On Wednesday, Quang had hosted a reception for China's Supreme Court chief. The president was said to have been ill for months, according to former health minister Nguyen Quoc Trieu.
Trieu is responsible for overseeing the health care for high-ranking officials. The minister said:
"He began showing symptoms of illness in June last year and has been treated in Japan six times since."
The health minister also shared that Quang had suffered from a kind of highly virulent virus. There wasn't any "efficient treatment" for the illness.
September 11, was one of Quang's last appearances. He was seen visiting with Indonesian President Joko Widodo in Hanoi where Quang appeared unwell and stumbled as he stepped on to a platform to inspect a guard of honor.
Before being appointed as president on April 2016, Quang had been the minister of public security. At the time, he headed an organization responsible for intelligence gathering and thwarting domestic and foreign threats to the party.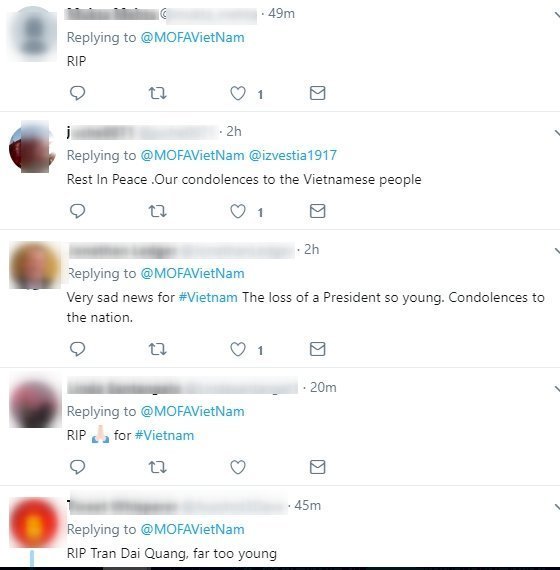 Source: Twitter/Viet Nam Diplomacy
The former police chief was known as a tough politician with little tolerance for dissent. Quang had also canceled a trip to New York City for this month's United Nations General Assembly this week.
Prime Minister Nguyen Xuan Phuc had committed to go in his place. Adam Sitkoff, executive director of the American Chamber of Commerce in Hanoi had this to say about the canceled visit:
"The U.S. business community had a dinner planned for President Quang."
Under Vietnam's constitution, if the president dies in office, the vice president becomes the acting president until the National Assembly chooses another president. The session, the second this year, will open on October 22 and will last for a month.
Dang Thi Ngoc Thinh is currently the vice president of Vietnam.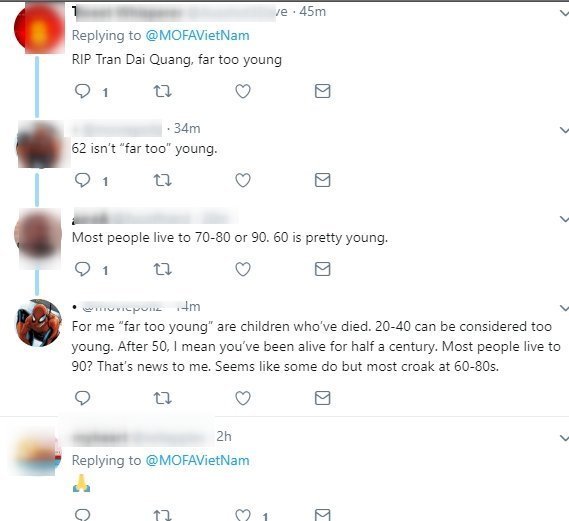 Source: Twitter/Viet Nam Diplomacy
Quang was from a small farming community 115 km south of Hanoi. He rose through party ranks to become a police general and Politburo member.
Bui Duc Phi, the council chairman of the village where Quang was born said,
"We are saddened to hear the news that the president has died."
Please fill in your e-mail so we can share with you our top stories!