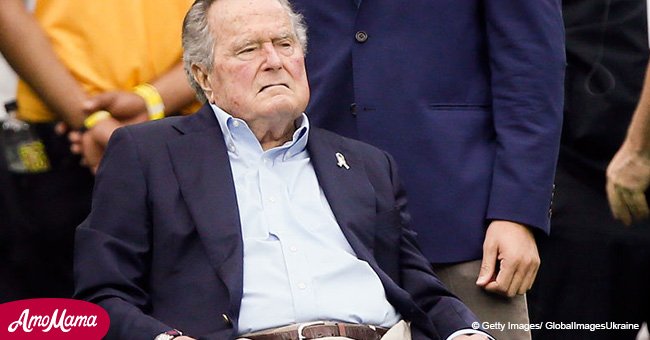 Bush family spokesman shared important update about former President's health
Former President George H.W. Bush has been moved from intensive care to a regular patient room at Houston Methodist Hospital, his spokesman said.
According to an Inquisitr report, the 41st president, who is 93 years old, was hospitalized Sunday, April 22, with an infection that spread to his blood. He's expected to continue his recovery at the hospital for several more days.
Bush was taken to the hospital the day after attending the funeral for Barbara, his wife of 73 years. He was admitted to the hospital with an infection that led to sepsis, which can be life-threatening.
He was in critical condition, his blood pressure kept dropping and a couple of times there was serious concern about whether he was going to come through, but that he had been stabilized.
On Wednesday, April 25, for the first time since he's been hospitalized, Bush took to Twitter to thank the city of Houston for their professionalism and obvious care for all those who attended his wife's funeral service.
In the tweet, Bush thanks Houston Mayor Sylvester Turner, the city police and transit agency, Second Baptist Church and St. Martin's Episcopal Church 'and really all Houstonians' for making Barbara's visitors and funeral guests feel so welcomed
The former first lady died at the age of 92 on April 17 and was laid to rest at the George H.W. Bush Presidential Library in College Station, Texas on Saturday, April 21.
Bush, who suffers from Parkinson's disease and is wheelchair-bound, has been hospitalized on several occasions in recent years. He attended his wife's funeral along with three other former presidents: his son George W. Bush, Bill Clinton and Barack Obama.
Bush was hospitalized three times last year for pneumonia, the flu, and chronic bronchitis. He also went to a Maine hospital with a broken bone in his neck after falling at his home in Kennebunkport in 2015.
Please fill in your e-mail so we can share with you our top stories!