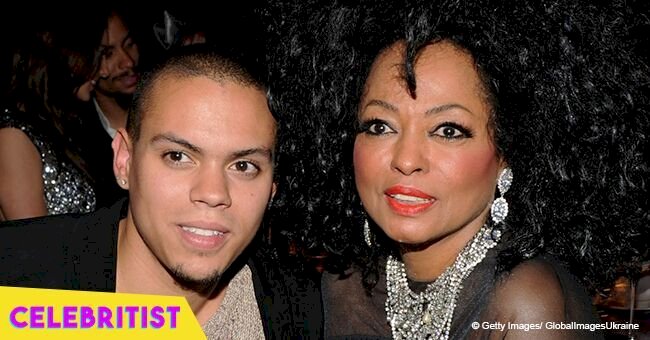 Diana Ross' son Evan sheds tears opening up about father who died from a climbing accident

Diana Ross' son Evan Ross sheds tears as he opens up about the tragic death of his father who fell 320 feet from climbing.
Evan Ross, son of Diana Ross and husband of Ashlee Simpson gets emotional in an episode of "Ashlee + Evan", where he talks about his father's tragic death. Evan's father died in a climbing accident. Sharing about the heartbreaking incident, he said:
"My father passed away when I was 15 years old. He was climbing and he had fallen."
Admittedly, Ashlee said that she wanted Evans to do this because it was part of his roots. As a concerned wife, Ashlee probably only wanted her husband to reconnect with his past and make peace with it. Certainly, it is an unfortunate and tragic event to lose a father – especially in an accident. It is a gift to Evans to have been blessed with a loving and supportive wife through the good and the bad.
Evan's father and Diana Ross' second husband, Arne Naess Jr., passed away at the age of 66 from a climbing accident at Groot Drakenstein mountains near Cape Town. He was a Norwegian Shipping Tycoon and also a frequent and experienced mountain climber.
Although he was not wearing as much protective gear, he had a rope and harness and probably didn't suspect anything bad to happen as climbing was nothing new to him. In fact, Arne has already led a group to the summit of Mount Everest, which only proves that the tragedy was, in fact, an accident.
During the funeral of Arne, Diana Ross, who was at that time already separated from him, made sure to pay her respects and even sang his favorite song. The two were married for four years and have two children, Ross and Evan. Despite choosing to separate and go on different paths, the two remained friends.
Now that Evan is much older, he tried the sport that killed his father after his wife encouraged him to face his fears and finally let go of the painful past.
Ashlee and Evan have their own daughter, Jagger Snow Ross, and now that she is growing up, it's important for them to let go of what holds them back from being the best parents they can be, and that included his long-time fear of the outdoors and of taking risks.
This has served not only as closure for him but has also become an inspiration to the millions of people around the world who have been neglecting a part of their past that now continues to haunt them. By encouraging others to face their fears, they allow themselves to be set free.
Please fill in your e-mail so we can share with you our top stories!