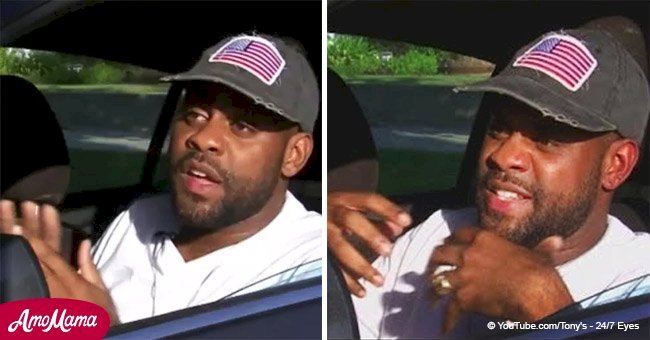 Woman calls police on black man sitting in his car listening to yoga music

911 Call sparks controversy in Long Beach.
After dropping off someone in Long Beach, California, Ezekiel Phillips decide to take a 30-minute break.
His yoga class was starting soon and stopped around the corner, listening to his Bikram yoga CD to pass the time.
Read more on our Twitter account @amomama_usa.
Phillips told Fox11 he had just dropped someone off in Long Beach, California, and stopped around the corner from the yoga class.
PHILLIPS VERSION OF EVENTS
The woman walked up to him in his parked car to confront him:
"You're not supposed to be here. This is a good neighborhood,"
Phillips remained calm and replied:
'Wait, hold up. Have a good day, ma'am. Namaste.' And I rolled my window up,"
The situation escalated when the woman started photographing him.
He got out of his car and started filming her.
She screamed wanting to know what he was doing, yelling for him to leave her alone.
THE WOMAN'S VERSION OF EVENTS
"I noticed him two houses up from my parents' house and I'm like, you know and he's waving to me. I don't know who he is."
"I go 'why are you sitting in your car in our neighborhood? And he goes 'I'm resting' and I'm like you weren't two blocks back'"
Phillips exited his car to listen to what she had to say. Yelling over the call:
"I can't get away from him! Get away from me!".
WHAT FOLLOWED
Ezekiel Phillips decided to prove innocence by remaining on the scene:
"I thought about it. 'If I leave, it's looking like I'm guilty of whatever she's talking about."
Video about the ordeal below.
OTHER VERSIONS OF EVENTS
Kelly Odom was appalled by the incident calling it racially motivated.
FOX11 tried calling the women several times but got no answer as to why she felt threatened.
They obtained audio from the 911 call, the woman is heard addressing the operator:
"I noticed him two houses up from my parents' house and I'm like, you know and he's waving to me. I don't know who he is."
According to the 911 audio, this is not true.
911 Operators deal with different situations daily, the following article shows a lighter side to their daily routine when a dispatcher receives a call from 5-year-old Savannah Hensley. 5-year-old girl calls 911 when dad has trouble breathing and the conversation is hilarious.
A SIMILAR INCIDENT
While a man in Milwaukee was using a parking meter a woman Approached accusing him of trying to break into his car.
She then proceeded to call the police. For the full article White woman calls police on black man for 'struggling to open his own car'
Please fill in your e-mail so we can share with you our top stories!