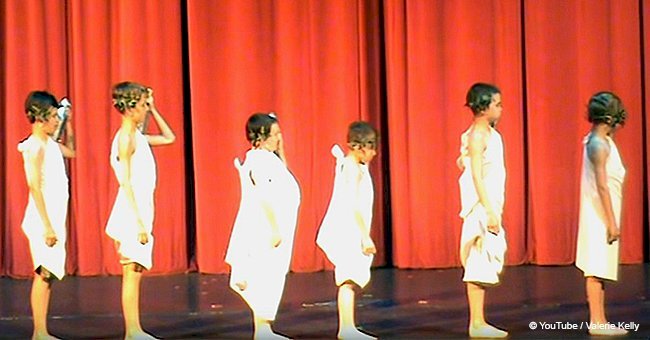 6 kids line up on stage and steal the show the instant they start to move

A group of students from Bell-Graham Elementary School in St. Charles, Illinois, who had performed together for two years, came up with a very creative talent show routine that was a roaring success.
As FaithTap reported, the troupe spent a month perfecting their act, which they simply titled "Fountains," and it was so different to what their classmates, families, and teachers were used to see at the school's talent shows.
Considering how the young performers were introduced in the video, it is clear that they had already build themselves a reputation as an established ensemble with many ideas to bring to the stage.
"We've seen them as synchronized swimmers. They've entertained you as the Von Trapps. This year they call themselves 'Fountains,'" the event's host said. Read more on our Twitter account @amomama_usa
The video of their piece was uploaded to YouTube in May 2014, presumably by the teacher who helped them put this together, Valerie Kelly, according to the video description.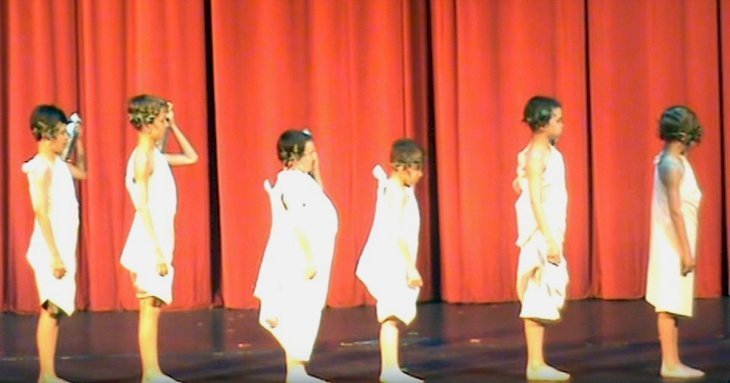 Source: Youtube/Valerie Kelly
After these words, the six stars in the making aligned themselves at the center of the stage to get started with their hilarious performance set to Enya's classic song "Only Time."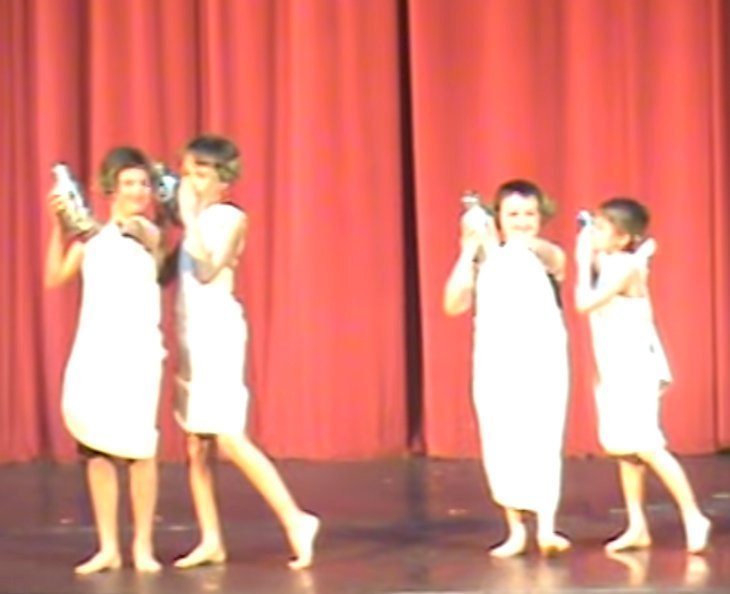 Source: Youtube/Valerie Kelly
The choice of a solemn, mystical, ceremonial soundtrack only adds more irony to the number, which parodies the classic configuration and imagery of ancient Roman fountains.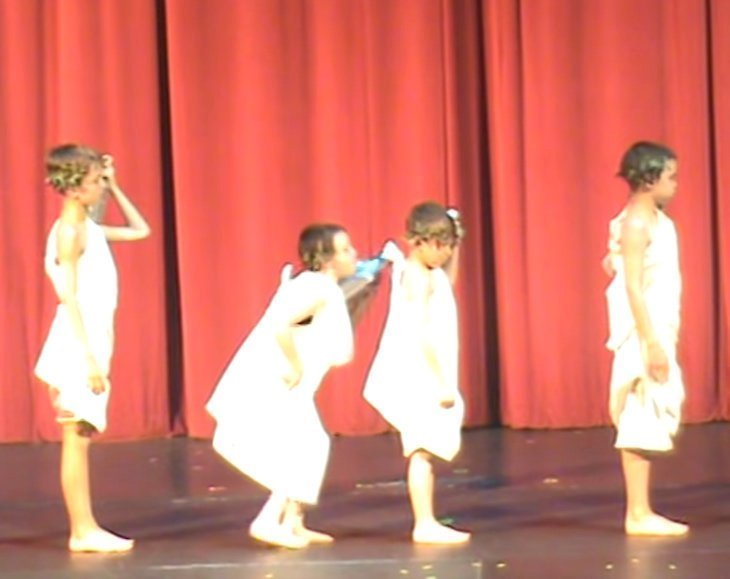 Source: Youtube/Valerie Kelly
Before the music starts and the lights are dimmed, the boys dressed in togas and wearing laurel crowns, arrange themselves in a tableau vivant resembling a sculptural group, which immediately cause the audience to start laughing.
During the funny 2-minute skit the children imitate the "behavior" of the characters we have all seen decorating fountains everywhere, namely, spitting water. They carry canisters full of water to keep doing this with comedic purposes.
Their show brought the audience members to the tears from laughing so much, and there is no doubt that they must have receiving the big trophy, for it is hard to imagine that somebody else came up with something to top their act.
If watching this display of talent and creativity at a young age only left you wanting more, you definitely need to give yourself the pleasure of watching this pair of young sisters that executed a perfect dance routine.
When the audience saw these two cute girls take their places on the stage they never imagined that with their ages they could show such acrobatic skills and elegance. They ended up winning first place at the 2009 dance competition.
Please fill in your e-mail so we can share with you our top stories!