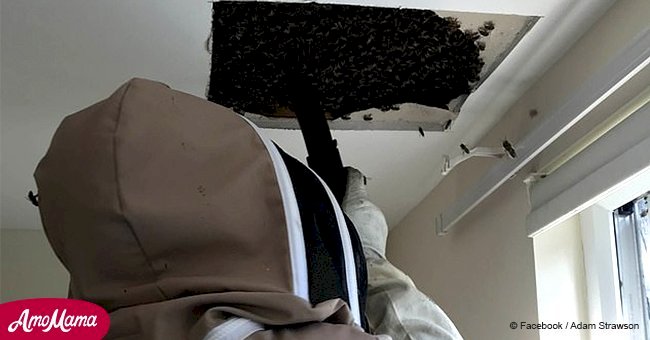 Scary moment thousands of bees are removed from the ceiling of a flat evokes goosebumps (video)

A student staying in a Brighton accommodation which held tens of thousands of bees was supposedly clueless about the situation he had just left.
According to Deadline News, it was the owner of the flat who discovered the massive colony of 40,000 bees in the ceiling after the student moved out.
The bees are believed to have gotten in during the 2017 summer. They were removed on September 17, 2018. The horrifying video is found below.
Follow us on Twitter for more @amomama_usa.
In addition to the bees, 55 kilograms of wax and honey were extracted from the ceiling.
Viewers will see when bee expert Adam Strawson vacuumed up the insects which are later transported to an apiary nearby.
The video will bring chills to even the toughest among us due to the sheer number of crawling, buzzing bees clearly covering on the ceiling.
Strawson, 29, is the founder and beekeeper at Aecre Honey, also based in Brighton. The job took him a total of eight hours to complete.
He said:
"I was amazed by the sheer size. On our initial site visit, we expected the colony to be relatively small, covering an area of around 12 inches square (which was the original hole we cut)."
He continued:
"We were quite surprised as we continued to remove more plasterboard that the comb just kept going."
Thankfully, Strawson confirmed that "the bees were safely removed - despite a number of stings - and they have been relocated to [the] Sussex apiary where they're now in a new hive for them to re-establish."
The "bee vac" they used to remove the bees was reportedly harmless to the creatures. The team collected pieces of the honeycomb for the bees to chow on while settling into their new home.
The hive was measured at 1.6 meters long and 30 centimeters wide. The honeycomb was two inches thick in some areas. Additionally, the queen had been using around 50 centimeters to lay eggs.
The media below contains the video.
According to Strawson, "it's very rare that [they'll] get a call to an established honey bee colony, especially of this size."
In effect, the colony was just one extremely large family. Much like this family discovered in Michigan who came together to save their fellow bee.
Peter Walkosz recorded the incredible scene which started after he had saved one small bee from being sucked into a honey extractor.
When he returned it to its hive nearby, viewers can see several other bees gather around and determinedly begin cleaning off their honey-soaked buddy so that he can start moving again.
After a half-hour, the bee is able to move about on its own again thanks to the clean-up rescue work of the family.
Please fill in your e-mail so we can share with you our top stories!