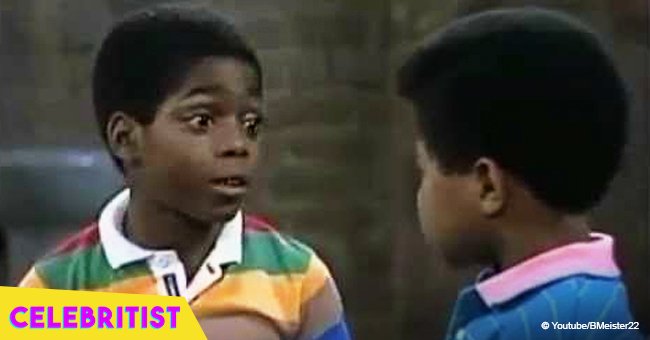 Remember Dudley from 'Diff'rent Strokes'? He shares rare photo with his wife of 26 years
Shavar Ross, better known for his role as Dudley Johnson, Gary Coleman's best friend in the NBC sitcom "Diff'rent Strokes," is now officially retired from the entertainment industry, and living his best life next to his wife and two kids. The man recently shared a rare pic with his long-time wife.
Shavar Ross was in the spotlight for over 30 years before deciding he had enough of the instability of the entertainment industry. These days, he's a business owner in the retail area, and he keeps on growing his company despite his fans wishes of seeing him on the screen one more time.
The now 47-year-old former actor recently took to Instagram to share a lovely photo with his rarely seen wife, Jacqueline, with whom he has been married for 26 years. The couple has two children, son Seven, 25 and daughter Chelsea, 13.
In the pic, Jacqueline is rocking a black and white printed top while Ross donned a black t-shirt with the word "motivation" printed on it. The couple seems to have been on a ship, as Shavar is holding a wooden wheel while smiling to the camera.
Even though Ross is mostly remembered for giving life to Dudley, he had a vast variety of roles through the years, appearing on series like "Family Matters," "The Little Rascals," "Punky Brewster," "Magnum, P.I.," "Growing Pains" and "The Steve Harvey Show."
His last appearance in front of the cameras was in the 2008 TV series "Chocolate News," but he remained working in the industry as a writer, producer, and director. In 2001, Ross started his entertainment company Tri 7 Entertainment, and he made his directing debut in 2007 with the film "Lord Help Us," which was an official selection of The American Black Film Festival.
Aside from acting, directing and producing, Ross is also a licensed emergency medical technician and caregiver. In an interview with JET magazine a few years ago, Ross revealed why he decided to pursue those careers, aside from a bachelor in psychology, saying:
"My father passed away at the age of 38 from a heart attack. Shortly after that, I became an emergency medical technician. I was 19, giving CPR to gang members in L.A. Then, after my son was born with autism 20 years ago, I became very involved with the needs of people with developmental disabilities, providing caregiving and counseling."
Shavar recently revealed through his Instagram the start of another company, Posters R Us, and announced that he's now officially retired from acting as he hopes his business will grow enough for him to have a peaceful retirement.
"Over 125 design entries and we have a winner! #PostersRUs So, no more acting for me, Y'all. I hope to retire in my elderly years in my rocking chair, watching my company's commercial during the #2036 Super Bowl LXX," he wrote.
Is not the first time that Ross talks about being tired of acting, as he told JET magazine back in 2013:
"Acting is finally out of my system. It was fun to go on auditions when I was younger. But now I don't have time for the instability— the ups and downs of the business. I have a wife and kids."
Please fill in your e-mail so we can share with you our top stories!