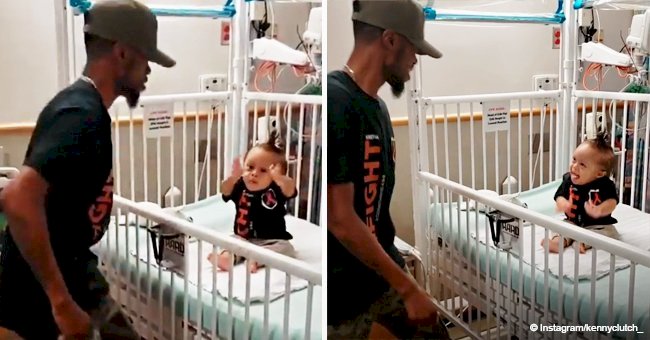 Adorable video of dad dancing for son with leukemia goes viral
Kennith Thomas was so thrilled about his 1-year-old son leaving the hospital after a month of cancer treatments that he had to celebrate dancing to Ciara's "Level Up." The video of the adorable moment became viral, earning the attention of the singer and people all over the world.
When Thomas found out his son Kristian was done with the first round of his chemotherapy process and was free to go home for a few days; the joyful dad celebrated doing what he does best: dancing.
Thomas, a choreographer from New Jersey, started to dance a freestyle version of Ciara's "Level Up" in front of his son's hospital crib.
The adorable boy, Kristian, who was born with down syndrome and was diagnosed with leukemia last June, was happy about his father's display of joy as he followed the song flapping his arms, clapping and trying to dance while looking mesmerized at his dad's fluid movements.
Kristian had spent 32 days at the Children's Hospital of Philadelphia battling cancer like a true champion, and his father's videos became viral quickly earning over 3 million views in a couple of days.
At the time, Ciara was promoting the Level Up challenge and encouraging her fans to show off their best dance moves, and when she saw Thomas' video, the singer had to repost it to her page, sending heartwarming words for Kristian in her caption, as she wrote:
"My [heart] can't take it watching this proud Father @KennyClutch_ dancing doing the #LevelUpChallenge because his baby's numbers were up. God is so good! We're dancing for you too angel! Let's #LevelUp against Cancer together!"
Kennith, who's the owner of a dance studio in Pennsauken named The Level Dance Complex — a name that came way before Ciara's hit song, revealed to Good Morning America that he loves to dance for his son as is something that calms Kristian.
"Music is therapeutic for him, and he's always calm when music is on and when someone is dancing," he said. "He's always in the studio with me and is always seeing me dance. He is a bundle of joy and ball of fire who is truly inspiring."
THE WINNER OF THE LEVEL UP CHALLENGE
A few weeks after the video went viral, Ciara and his fans picked Kristian as the winner of the challenge, and she visited Thomas' studio in person, dancing with the kids, holding Kristian and showering him with love.
The mother of two shared an adorable photo from her encounter with Kristian and announced that the boy was in remission. "He was so cuddly. He's surrounded by an abundance of love! He radiates love! He's a true warrior!" she said of Kristian.
"I felt so blessed being with him and his family! He's currently in remission, and has one more big step left! Let's all continue to lift this angel up in prayer! His family too! Big shout out to his parents @KennyClutch_ @JosilyneThomasPhotography! Together we can #LevelUpAgainstCancer! #FightKristian #WhyNotYou!"
Kristian and his wife have three other children, and while their son's treatment is covered by insurance, the couple had to think of different ways to earn more money for travel expenses and other needs of Kristian and his kids. They created t-shirts with encouraging messages to fight against cancer and have received donations from people all over the world after becoming a viral sensation.
Kristian is still fighting, and he just finished his third round of chemotherapy. The boy recently caught the attention of Janet Jackson, when his father shared a video dancing to her single "Made For Now."
Another dancing dad that became famous on the internet was Marc Daniels, who rushed on stage to calm his crying 3-year-old daughter in the middle of her dance recital. He danced, pirouetted and showed off his best moves while holding his 7-months-old daughter Suri on his arms.
Please fill in your e-mail so we can share with you our top stories!