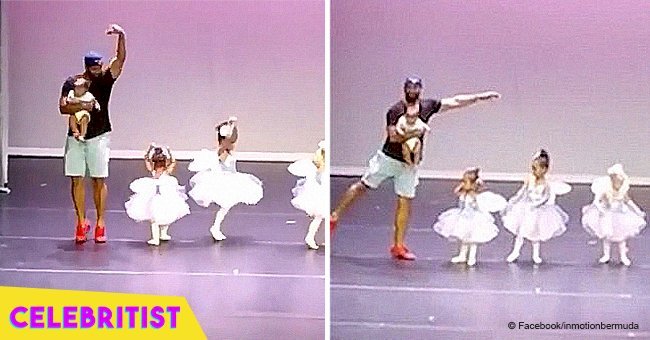 Dad runs on stage to dance with his ballerina daughter who was suffering from stage fright
When his two-year-old daughter had a severe case of stage fright in the middle of her presentation, Marc Daniels didn't think twice before joining her on stage to help ease her fears. He showed off his best dance moves, and people from all around the world named him a "Daderina."
Marc Daniels became a viral sensation on the internet thanks to his excellent parenting skills and graceful ballet moves. The father of three was caught on video dancing to a group of toddlers, including his daughter Bella after the little girl had a crisis right before taking the stage.
Che Baker, husband of Lizz Pimentel, the dance school's owner, noticed that Bella was feeling restless and calling for her dad, so he found Daniels hoping he could calm the little girl. However, the girls were already set to take the stage of their final dress rehearsal for the dance recital, so he didn't have time to calm down his daughter.
In a video that has been seen over 1 million times, uploaded by Bermuda's In Motion Dance School, little Bella is seen crying on stage as the music starts and the rest of her dance partners follow the choreography.
Soon after, Marc crossed the stage and tried to encourage the girl from the wings, but when that didn't work, he joined the formation, took his daughter's hand and started to follow the dance moves, while still holding his 7-month-old daughter Suri on his arms.
The crowd of parents and teachers can be heard cheering for the man, who pirouettes, leaps and balances on one foot alongside the tutu-clad girls.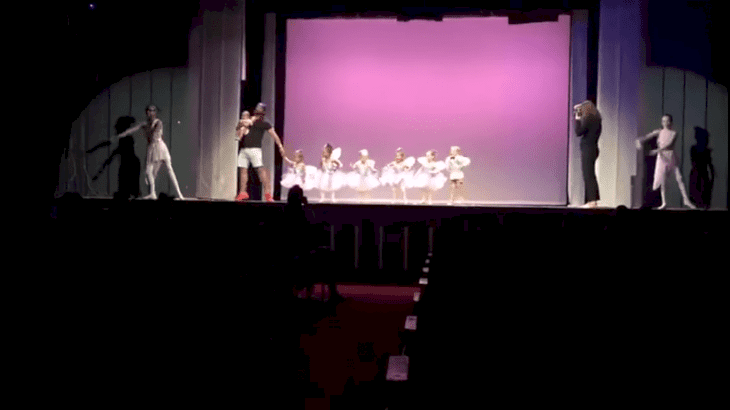 Credit: Facebook//inmotionbermuda
"Rather than just stand there, I watched the other girls, got into character and went along with it," he told The Royal Gazette. "I just wanted to make sure my daughter was calm and felt comfortable."
Daniels added that instead of discouraging Bella by making her leave the stage, he decided to build her confidence with warm and encouraging words. He said:
"I walked on holding Suri and stood next to her, trying to help build her confidence - I told her I loved her and that she's an amazing dancer. I asked if she wanted to dance with daddy and she nodded, so I thought I'd join in. I've practiced with them at home on many occasions, so it wasn't unfamiliar to me."
The self-employed barrister revealed that family, friends and even colleagues showed their appreciation for his actions. "Jurors, police officers and members of the prosecution have even been giving me twirls and plies as a token of appreciation for the video," he confessed. "Even in court the other day, one of the magistrates made a comment about my moves that prompted the court to erupt into laughter."
Lizz Pimentel, In Motion owner and director, said that the man has a future in the dance school if he ever wants to join. "It's moments like those that remind us of how magical and exciting theatre really is," she shared.
"Next year I'm sure he'll be there for our dads and dudes annual ballet class to make sure his technique is perfect."
Meanwhile, a not so shy girl from North Carolina stole the show at her pre-k graduation ceremony when tired of waiting in line; she started to dance across the stage after receiving her diploma. Little Aubrey Toby became a viral sensation when her uncle shared a video of her antics on social media.
Please fill in your e-mail so we can share with you our top stories!