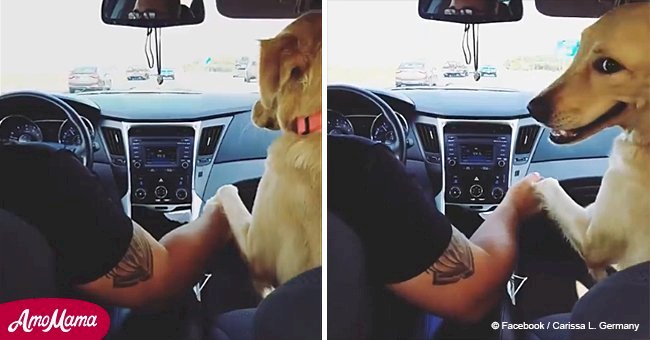 Touching video of dog grabbing owner's hand in her paw with eyes full of love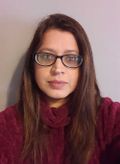 Anxiety and motion-sickness may take many forms, but this needy dog in the video below could just be milking the situation for a bit of cuddle-time with her favorite guy.
It's not enough that this Golden Retriever Lucy is getting to sit in the front seat while her human mom sits at the back, no Lucy needs a little bit more attention than that.
According to mom Carissa:
"Something you might not know about Lucy... she has to be holding your hand in the car."
Read more on our Twitter account @amomama_usa.
Some people trick their dogs into going to the vet by offering a treat or scratching their ears, but that wouldn't work with Lucy.
Carissa said in a now-viral Facebook post that hand-holding every time she gets into a vehicle has become Lucy's thing.
In the now-viral video, Lucy can be seen reaching for her dad's hand while he's driving. She's quite persistent and he gives in.
It's at that very moment that Lucy glances at her mom over her shoulder with an almost smirky smile as if to rub it in her face that she got her way.
From all the pictures scattered on her mom's Facebook page, it is fairly obvious to see that Lucy and her siblings are very well taken care of and happy.
Watch the cute video and see her adorably sneaky move for yourself:
Dogs generally like car rides. They climb into the people-mover and get taken to parks, dog-friendly restaurants, to fetch kids from school, and go on road trips.
Most of those times they get to smell the scent of the dogs that have gone before them, like reading a newspaper, they can catch up on all the latest dog- gossip.
Dr. Brian Hare, Duke University associate professor of evolutionary anthropology and founder of the Duke Canine Cognition Center, says:
"If you give dogs a choice between being with a person or with other dogs, dogs prefer to be with ­people."
In a similar story, a 4-year-old dog from Lebanon, Tennessee, also went viral due to her paw-grab in the car. Regan's owner had passed away and she was left all alone, ending up at a shelter.
After three days at the shelter, Kim Mozena Rezac, the founder of Goofy Foot Dog Rescue and director of animal welfare for Animal Rescue Corps, took the dog home with her. Here's a video of what Regan did in the car:
On the ride home, perhaps as a way to show her gratitude or to get comfort, Regan put her pawn on Rezac's hand and arm.
Netizens loved this sweet gesture so much that the post went viral and two days later, Regan would get her fur-ever home.
Please fill in your e-mail so we can share with you our top stories!