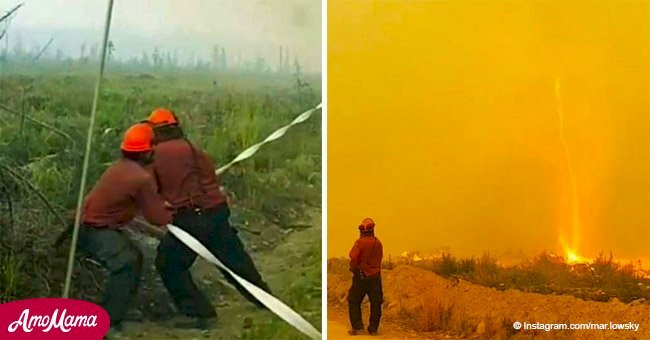 Rare 'fire tornado' sends firefighters scrambling as it sucks their hose into the air

A vortex pulls the firefighters' hose up in the air.
On 19 August firefighters were fighting the Chutanli Lake fire, central British Columbia under high winds.
M.C. Schidlowsky, wildland firefighter, with Instagram handle @mar.lowsky filmed a column of air extending at least 200 ft up.
Read more on our Twitter account @amomama_usa.
WHILE FIGHTING THE FIRE
Visibility was bad due to heavy smoke.
Schidlowsky films the fire whirl sucking a firehose up into the vortex.
The fire crew in British Columbia struggle to regain control of the fire hose and gets sucked into the sky as a flame swirls in the vortex nearby.
The reasoning behind firefighters in this video not fleeing from the fire whirl is known to them as professionals operating in the field.
Flaming objects flying around can ignite vegetation around you, which can be dangerous and these events tend to be unpredictable according to Gollner.
In Richmond, Virginia a tornado rips through buildings on Hull Street in Midlothian. Having devastating consequences.
Footage recorded by John Guth was uploaded to a YouTube channel. For more on this Deadly tornado caught on camera as it rips through Virginia warehouse.
As a caption to the video firefighter, Mary Schidlowsky wrote:
"Fire tornado destroyed our line. It threw burning logs across our guard for 45 minutes and pulled our hose 100-plus ft in the air before melting."That's definitely a first."
THE FIRE WHIRL
Michael Gollner, a fire scientist at the University of Maryland's Department of Fire Protection Engineering said in an interview:
"It's a classic fire whirl. It's very common for smaller whirls to occur in fires. They're more akin to dust devils."
Gollner adds:
"For any whirl to form amid a fire, something must cause a swirling motion, like erratic winds or gusts spinning off hills or topography. Such events are evidently quite common."
Anyone in the vicinity of a large fire vortex, scientifically known as a fire whirl is advised to keep a good distance.
In California, a vortex of smoke and fire swept through Carr and headed over the Sacramento River towards the town of Redding. Find out how it happened and more explanation on what a 'firenado' is, visit A fire tornado hit California. Here's how it happened.
Please fill in your e-mail so we can share with you our top stories!