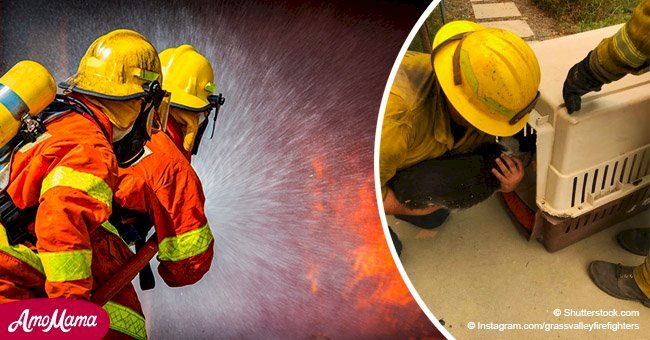 Cat and chicken were found 'huddled together' for support in life-threatening situation
Unlikely animals come together during a blaze.
In Shasta County, Northern California firefighters were fighting the Carr Fire when they came across an unusual sight.
Car Fire was the sixth most destructive wildfire in California history according to officials.
During an annual competition in San Diego County, California dogs compete in a surfing event for a good purpose. To find out more Californian dogs conquer the waves during annual competition
Read more on our Twitter account @amomama_usa.
In the doorway of a home huddled together for safety against the smoke and fire was a cat and a chicken.
CAT AND CHICKEN
It's not clear how they ended up in the doorway together or where they came from.
Burn injuries were suffered by both the chicken and cat.
Whiskers, the cat had burns on his paws from the heat emanating from the ground and visits the local animal hospital daily for bandage changes.
Firefighters found an animal carrier in the house and after coaxing the two in fresh water was put inside for them.
Later they arrived at Shasta County's Asher Animal Hospital in Redding, California to receive further treatment.
They are both expected to make a full recovery.
CAT AND CHICKEN IDENTIFIED
Niko Kuyper, her owner was notified by his neighbor after seeing news reports on the incident.
Kuyper also identified Whiskers, his neighbor Jennie Sierra's cat. After her son's friend sent him a Facebook story with photos of Whiskers her cousin went to the animal hospital to pick him up.
Some people had their homes burned down in the Carr Fire, the cost thereof extensive but Shasta County officials are offering relief.
They will allow them to use construction standards dating back to 1997, which will allow them to save thousands of dollars.
The full story here Shasta County homeowners rebuilding after fire may get a break.
Source: Kathleen Galligan, Detroit Free Press
Please fill in your e-mail so we can share with you our top stories!