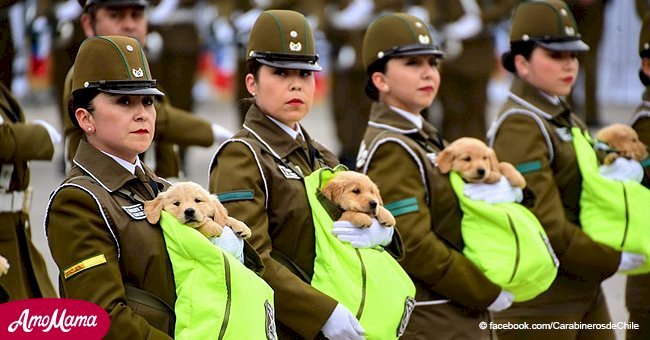 Puppies steal the show at Chile's Military Parade

During a Chilean military parade, the Carabineros de Chile wowed everyone by walking next to the recruits of the Canine Unit – a bunch of puppies.
In the video uploaded to BBC's Twitter account, each member of the troop of Carabineros was portrayed walking with a young golden retriever in neon green pouches worn across the chests of the marching police trainers.
Apart from that, older golden retrievers and labradors were walking next to their instructors wearing little boots in what was the most adorable part of the annual military parade.
According to Standard, almost 10,000 troops marched in Santiago's O'Higgins Park for the Great Military Parade on September 20 to commemorate Chile's 208th Independence Day anniversary.
Such a spectacle has been a tradition for more than 50 years in Chile's history, and it attracts millions of viewers. Apart from those who attend the O'Higgins Park in Santiago, many more watches it on TV.
While the Canine Unit was very cute and it was considered the best group of the entire event, it was not the first time they featured in such celebration. Their debut in a march took place in 2008, exactly a decade ago.
As soon as BBC uploaded that video, several people took to the comment section to share their thoughts. One of them was user @themightyjungle, who admitted to being amazed that the Carabineros made sure adult dogs were warm by making them wear black boots.
@jzanier468 chimed in and said that they "awww" bad guys into submission. @stoleyaunicorn finally wondered if the same could be done in the United Kingdom. Read more on our Twitter account @amomama_usa.
Knowing that the dogs and puppies have a good life with the Carabineros fill people's hearts, especially after knowing that there are people who are cruel enough to abandon a little dog with its paws tied together.
The little puppy was found inside a woman's wallet that someone left hanging on the door handle of a charity shop in London. The poor dog was shaking with cold and terror at having been abandoned to his fate.
If that wasn't bad enough, the little animal had an elastic band around its legs that was hurting him by cutting off the circulation of blood to the extremities. Thankfully, it was taken to the RSPCA, where the puppy is waiting to be adopted.
Please fill in your e-mail so we can share with you our top stories!