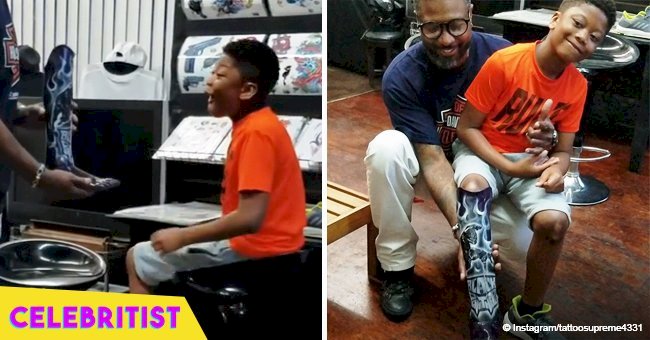 Tattoo artist surprises little kid with 'Black Panther'-themed prosthetic leg in viral video

A 10-year-old boy was pleasantly surprised when his brand new prosthetic leg appeared to have been delivered straight from Wakanda.
A tattoo artist has just made a 10-year-old boy with a prosthetic leg the coolest boy to have one. In a video that's now gone viral, he surprises him by painting the leg in "Black Panther" fashion.
Michael Mack Jr.'s leg was amputated when he was only 11 months old and he's had a prosthetic leg since then. Due to his growth, his mother would replace his leg every year and his most recent replacement is by far the coolest. His mother contracted artist Milton Purnell of Tattoo Supreme in Raleigh who's also an amputee. She asked Milton to design Michael's leg inspired by the "Black Panther" and the result along with Michael's reaction was priceless.
Michael was sitting in a room waiting for his new leg when Mitlon appears bearing the black leg he specially designed. When Michael sees it, he jumps off his seat with delight.
"I was just in shock," Michael said describing the moment he saw his new leg.
"I was in shock because it was really cool to have something like this, and I just couldn't believe it, and I jumped up and I started laughing. It was really cool."
Even Milton thought the moment was amazing and reveals Michael's leg is by far one of his best creations yet. He also says it's even made more special by the fact that Michael shares his situation.
"To meet other people that have the same situation that he has, and be able to grow through it, and let it be a part of your life and embrace it - that's magical,"
As for Michael, he's learned to embrace his life as an amputee. This hasn't prevented him from pursuing his hobbies which include dancing and basketball. Michael hopes to inspire other amputee kids to believe that they can do anything. But first, he just wants to flaunt his cool new leg in his upcoming basketball game. Meanwhile, here's Michael showing off his new leg and his killer dance moves.
Michael's fun leg reminds us of a sweet gesture Robert Downey Jr. did three years ago. The "Iron Man" star gifted a 7-year-old boy named Alex with a bionic arm. The way Downey delivered his gift was as special as the arm itself. He appeared as Iron Man introducing himself as Tony Stark before unveiling Alex's arm. He also showed Alex that he, as Iron Man also had a similar one. The arm reportedly cost $350 in materials but Alex's reaction to it was priceless.
Please fill in your e-mail so we can share with you our top stories!