7-year-old boy sings Johnny Cash song and amazes the audience
Second-grader put up a fantastic show with his amazing guitar skills and a stunning vocal inspired by the famous country icon.
The young boy took to the stage carrying a guitar that almost overwhelmed his size and announced that he would be singing a popular country number, much to the delight of the audience.
The video uploaded to YouTube sees the boy singing in a voice that felt much more mature and perfected for his age, which completely surprised the spectators.
The song this young boy chose was Cash's "Folsom Prison Blues," and his rendition of the song carried just as powerful emotions that Cash did through his version.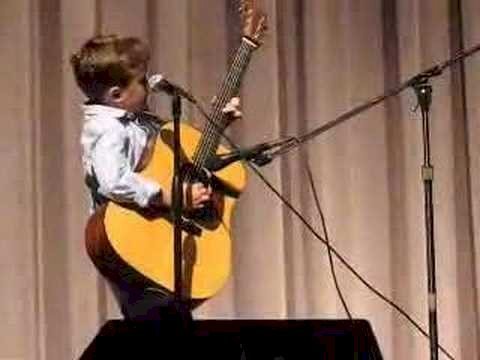 Follow us on Twitter to learn more.
The first talent that one notices about this young boy is his amazing skill with the guitar. The way he plays the plugging is simply tantalizing and he hits every note just as perfectly as Cash would.
Then he begins strumming his guitar and once again his rhythm is on point, which the audience as well notice and erupt into cheers immediately.
Finally, the boy starts to belt out the lyrics to the song and his trained vocal come out for everyone to witness. His command over the difficult notes is immediately apparent as the boy produces one of the most beautiful renditions of the song.

The mesmerizing video is one of the most watched videos on YouTube and it has amassed over 6 million views so far. There are over 9,000 likes on the video.
According to Country Music Nation, the song was written completely by Cash. It was released in 1955 and it immediately reached the top spot on the Billboard country chart. Being a pop crossover, it reached at number 32 on the Billboard Hot 100.
Western Journal further informed that Cash was renowned for crossing genres and was equally popular for country music, rock-and-roll, as well as gospels.
His sad demise came in 2003 due to complications from diabetes. He was 71 years old when he died. His final performance before a live audience came only two months prior to his demise.
During the performance, he sang some of his greatest hits including "Folsom Prison," "Walk The Line," and "Sunday Morning Coming Down."