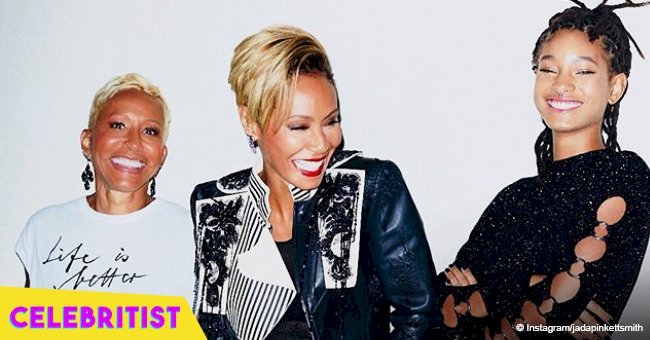 Jada Smith, daughter Willow, & mom Adrienne make headlines showing off their abs in latest selfie

Jada Pinkett-Smith just broke the internet with a three generations photo that is mindblowing. Along with her daughter Willow Smith and mother Adrienne Banfield-Jones, the "Girls Trip" star served up major fitness goals and the internet is all for it.
Clothed in sports bras and leggings, the three generations of women posed before a Gym mirror. Smith, 17, wore an all-black ensemble and held up an iPhone in one hand. Banfield-Jones, 64, flanked Smith to the right in a black and white combination topped off with a bandana. Pinkett-Smith, 47, looked equally awesome, rocking her low-cut.
The women put their impressive abs and toned physique on full display, sending the internet into a meltdown. The photo went viral in no time, garnering over one million likes in 13 hours. It has also attracted about 30,000 comments from fans and fellow celebrities.
A lot of people said the picture was a piece of inspiration:
"What a Beautiful Picture. Love it. Strong Black Women...Inspirational"- @queenbb67
"Wow!!! This is very inspiring, I will do this with my daughters and my future grandchildren, my mom is watching from above"- @Vivianabwoli
Others could not help admiring the genes at work in Pinkett-Smith, her mother, and her daughter.
WHEN CELEBRITIES BECOME FANS
Celebrities like Jessica Alba, Kim Kardashian, Erykah Badu, Kelly Rowland, Alicia Keys, Nia Long, and a host of others were also in the comments section, stunned by the image. Halle Berry remarked:
"I mean. Goals for real!"
Without a doubt, there's no going back for Pinkett-Smith and her clan on this fitness journey. The "Red Table Talk" host and her mother have always been known as fitness buffs, sharing their impressive results on social media.
CATCHING THEM YOUNG
Pinkett-Smith once revealed that, as a young girl, "sitting at home on a Saturday or Sunday was never an option." Her mother, Banfield-Jones, instilled in her a love for workouts and enrolled her in classes for gymnastics, dance, and horseback riding.
Last month, the "Bad Moms" star shared a photo of her mother lifting weights in the gym without missing a beat. Fans could not fathom how Banfield-Jones was able to achieve something most 30-year-olds could not.
Back in July, Pinkett-Smith also thrilled followers with a mirror selfie of herself in a yellow bikini. The mom-of-three who recently celebrated her 47th birthday could easily pass for a woman in her twenties.
A FIT LEGACY
Now, it appears, Smith, 17, is carrying on with the family legacy. Meanwhile, this is one more thing for the three women to bond over. They already serve as co-hosts on Facebook series, "Red Table Talk" where they discuss personal details and host famous guests.
Please fill in your e-mail so we can share with you our top stories!