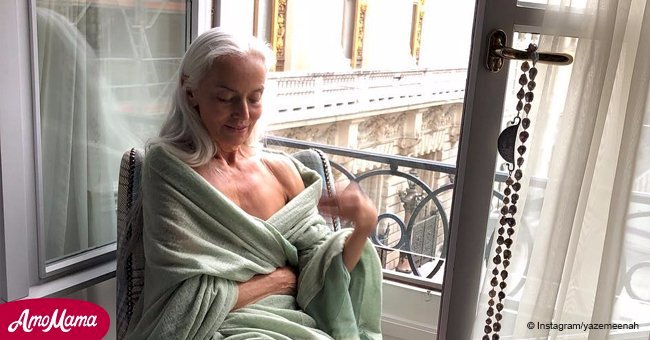 Extremely youthful 63-year-old isn't ashamed of her age and opens up about anti-ageing secret

Yazemeenah Rossi has been living in youthful splendor for several years. She is now 63, and she's let the public in on what has kept up her age-defying skin.
Born in France, the experienced model has broken the mold, appearing in several magazines since her big break at age 45.
She also has her own Instagram account on which she regularly posts mesmerizing photos. So what is the secret to her fountain of youth?
Follow us on Twitter for more @amomama_usa.
Rossi, a two-time divorcee, attributes her looks to daily rubbing of olive oil on her skin. Additionally, she does a homemade scrub of olive oil and fine sugar once a week for exfoliation.
Seems simple enough, but Rossi also claims that her diet plays a large part in her upkeep. She eats at least one avocado per day and has long gone organic.
The white-haired beauty stays away from processed, frozen, or microwaved foods. Rather, she eats lots of fruits and vegetables, quality fish and meat, and nuts.
Rossi explained to the Daily Star Online that she "comes from a very simple background where we used olive oil to cook with."
"Olive oil was used on our hair and skin - nothing else." Currently, Rossi says she uses grapeseed oil on her hair, however.
The Malibu resident began her modeling career at 28 years old, an age that most people would describe as a late start.
2016 was when her social media presence took off.
She described how "one day my Instagram went from 1,000 to 12,000 followers. Crazy, nonstop."
Rossi also takes care of herself by practicing daily yoga. She started Bikram when she was in her 30s after windsurfing for years.
"It gives me a wow feeling!"
Another 63-year-old wowed the internet when he posted a shirtless photo to his Instagram back in May 2018.
Tom Bergeron found it fit to re-create "Dancing With The Star's" Sasha Farber's shirtless snap for laughs.
But followers were quite impressed with the older actor's youthful frame that housed well-trained abs.
It should come as no surprise though. Bergeron regularly updates fans on his gym workouts from trainer Catherine Reisen.
Please fill in your e-mail so we can share with you our top stories!