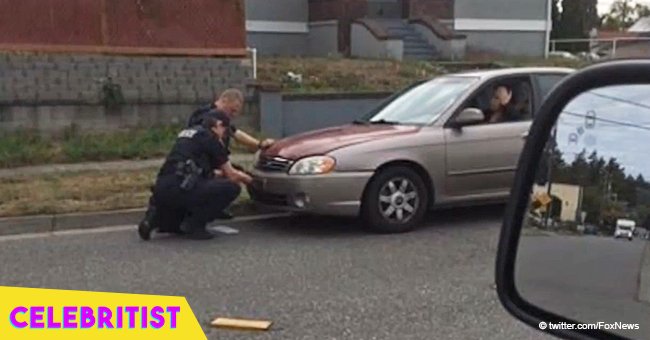 Single mom pulled over by cop and 'almost in tears' gets a pleasant surprise

A down and out single mom discovers that getting pulled over by cops isn't necessarily a bad thing.
Brittany Payne knew her luck had run out when she was pulled over by two cops while she was driving in Bermerton, Washington with her 15-month-old son at the back seat. Unsure what she did wrong, she braced herself for another problem she was about to face to add to her life's woes.
When police officer Steven Forbragd approached her, he told her she was missing the front license plate of her car. Almost in tears, Payne said she was a single mom and didn't have the proper tools to install them.
At that point, two more officers arrived and helped install Payne's license plate. They started conversing with Payne and found out one of the officers, Johnny Rivera, like Payne, had served with the U.S. Navy. Payne was a gunner's mate while Rivera was a machinist's mate.
What happened next was something Payne would never have imagined. Instead of getting a ticket for her negligence, Rivera pulled out a voucher from United Way and handed it to her. He told her he could use the $25 coupon to buy clothes for her son.
Payne told Q13 Fox later,
"I just thought it was going to be another kick to me and they definitely surprised me."
"I can say I have been extremely let down by law enforcement and court system in the past due to past life situations but this definitely restored some of my faith in those who are there to serve and protect our community. So from the bottom of my heart, thank you sooo very much to those currently on shift with the BPD. You all just made my day!"
Payne posted a photo of the voucher on Facebook and wrote about her pleasant experience with the police officers who were also commended by the Bremerton Police Department for their kind act.
A similar situation happened in 2015 to a teen with bone cancer whose mother was pulled over by cops. Coming to her mother's defense, the 16-year-old, Maddie Carlson tried to explain that her mother had done nothing wrong. To her surprise, she found out they were pulled over as a ploy for cops to hand them a $250 check as a donation for her treatment. The Goffstown Police Department had been collecting funds to help her and that was their way of surprising her with the gift. Even Maddie's mother was in on the hoax the whole time because it was her plan in the first place.
A 75-year-old woman also had her own story to tell about an act of kindness extended to her by a police officer. Delores Marotta was at a Petrol station about to load $3 worth of gas in her car when the police officer waiting in line behind her offered to assist her and asked her to stay in her car. As they spoke, the officer, Todd Bing, discovered the old lady had no more money besides the $3 she was using for gas. This prompted him to load $20 more on the woman's gas tank, surprising Marotta, as well as the gas station's manager who posted the story on Facebook.
Please fill in your e-mail so we can share with you our top stories!