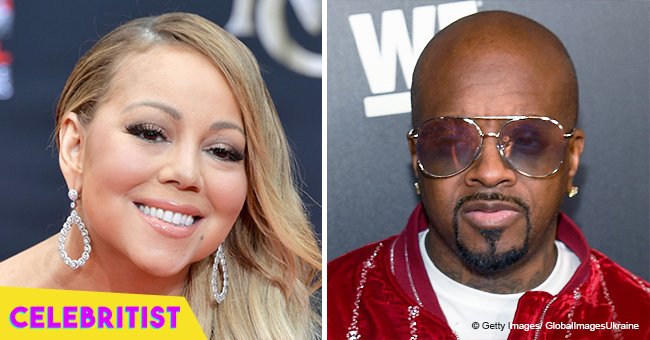 Mariah Carey stuns in tight, glittery dress while celebrating Jermaine Dupri's birthday

Mariah Carey sizzled and sparkled along with the candlelit cupcakes she presented to Jermaine Durpi in a video she posted on social media.
Jermaine Dupri is responsible for crafting some of Mariah Carey's greatest hits so the songstress made sure she was there to celebrate his birthday with candlelit cupcakes, a birthday song, not to mention, a stunning glittery dress that highlighted her curves.
Mariah posted a video from the intimate affair where she's holding on to a plate of cupcakes bearing lit candles for the birthday boy. As Jermaine approaches, camera in hand, she sings him the "Happy Birthday" song in Mariah fashion while flaunting her assets in her sparkly silver dress. The tightfitting number hugged her enviable curves as she slung a feathery shawl around her.
In the clip, Mariah tells her friend she calls "JD," "We have these sparklers right here for you," referring to the cupcakes, then she shows him a box she's holding with her other hand adorned with a pink rose. She tells him it's her "special present" for him.
Jermaine also showed his appreciation by sharing a clip of Mariah's greeting taken from a different angle.
He later posted a video of their after-party celebration where Mariah changed into a leather outfit and put on a pair of shades as they sat together at a table in Craig's in Hollywood.
The Daily Mail disclosed the singer was also joined by her boyfriend of 2 years, Bryan Tanaka who was photographed with her as they left the celebrity hotspot hand in hand. Photos featured by the publication showed Mariah looking sexy in her leather ensemble complemented by sky-high platforms. She was wearing the same eye-catching diamond necklace and drop earrings she was wearing earlier with her silver dress.
Fans must be happy to see Mariah in good company after recently bashing her for spending time with Floyd Mayweather. She posted a photo of the two of them together on Instagram which her fans didn't appreciate. Many advised her to be wary of her friendship with the controversial boxing champ claiming he was an "egomaniac" and "physically abusive to women." Mariah has been known to be in Mayweather's inner circle. She even attended his birthday bash in February.
Please fill in your e-mail so we can share with you our top stories!