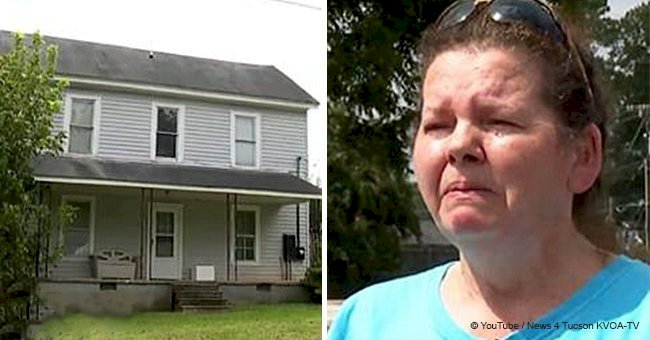 Woman called 911 about missing granddaughter, then policemen find child locked under the stairs
When a worried grandmother, Linda Benskey, called 911 due to her increasing concern over her the safety of her step-granddaughter. Her premonition turned out to be life-saving for the young girl.
After Linda did not hear from her 5-year-old step-granddaughter, Angel, for over a month, she decided to call the police, reported Fox News 8.
She asked them to check up on the little girl at her North Carolina home, where she stayed with her stepson, Adam Byrd, and his girlfriend, Crystal Carnahan.
Police invited the child's former caregiver, Tracy Harrell, who worked at a local daycare, to join them in the search for the little girl.
Follow us on Twitter to learn more.
Together they made the shocking discovery that Angel was locked in a closet under the stairs of the house. She was found covered in filth and in a badly beaten and burned state.
Harrell could not believe her eyes when she saw Angel's condition for the first time. She told Fox 8 that the little girl's hands were shaky, her hair was shaved, but what wasn't shaved was pulled out in knots. She had bald spots all over her head.
She also had bruises around her neck and her face was dirty and cut up. She was almost unrecognizable to Harrell herself.
Police could not explain just how long she was kept locked under the stairs. When Harrell asked her when she had eaten last, the girl replied that she did not remember it.
Since Harrell was present among the search party, Angel had a face she could trust and find comfort. After the trauma she suffered, she quickly clung to her former caregiver and wouldn't let her go.
"She clung to me and wrapped her arms around me. I had her laying here and she kept saying 'please don't leave me, please don't leave me," Harrell told Fox News 8.
Angel's father, Byrd, and his girlfriend, Carnahan, were charged with child abuse, neglect, and assault with a deadly weapon.
Only a few months back, another shocking report regarding a similar unimaginable physical assault on a minor came out.
A 42-year-old Minnesota man was accused of rubbing hot sauce and cayenne pepper in his two-month-old daughter's mouth, nose, and eyes. He was given a sentence of 30 months after pleading guilty to the abuse.
Please fill in your e-mail so we can share with you our top stories!