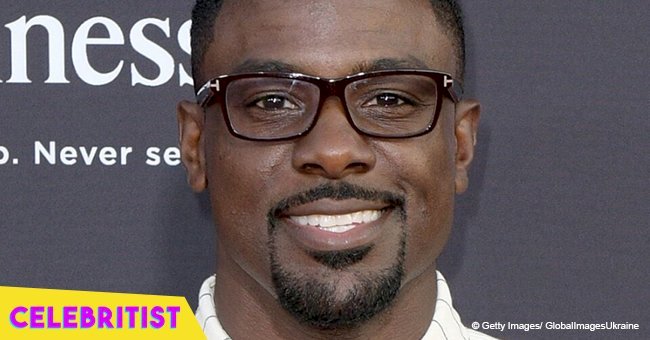 Lance Gross' baby son steals hearts with his birth mark on the cheek in cute pic

"Star" actor, Lance Gross shared another photo of his infant son with a cute birthmark and the fans are all for it. Lance was recently targeted by online trolls after a comment he made concerning his son.
Lennon Lorin Gross was pictured in a gray outfit bearing an elephant imprint. The little boy had his mouth wide open in excitement. On his right cheek, a dark birthmark was visible. Proud dad Lance captioned the photo with his boy's nickname as usual, "LL Kool G."
Early last month, Lance, 37, came under fire after he shared an Instagram image of Lennon and wrote, "LL Kool G my little man's color is comin' in nicely! I'm hyped!"
Social media users accused him of colorism and self-hate, with one non-fan bringing up Lance's Christmas Photo tradition that sparked a similar debate in 2016.
"If you wanted to have a child with your full ACTUAL dark skinT complexion then you wouldn't have procreated with an extra light skinT MIXED race woman," the user wrote, also taking a swipe at Lance's wife, Rebecca.
In a lengthy message on Instagram, Lance fired back at the critics, stressing his pride in his skin color and defending his choice to marry the woman he loves.
Lance said:
"Two things I am proud of is the ability to smile through any situation and the rich melanin that layers my body. For my daughter or son to share that blessing makes me overjoyed. Miss me with the self-hate cause those assumptions are invalid. I love me more than anyone else ever could."
"Colorism exists, yes, but y'all not about to label every dark skin Black man who is in a relationship with someone lighter complexion under that bus. I chose love, not skin tone."
The "Meet The Browns" actor also left some advice for the bitter online trolls who chose to attack him and his family:
"I hope you heal, find counsel/therapy for the bitter/triggered ignorant mindsets."
Lance and his wife, celebrity stylist Rebecca Jefferson, welcomed their son on July 10, two days after Lance's birthday. They are also parents to a three-year-old daughter, Berkley Brynn.
Please fill in your e-mail so we can share with you our top stories!