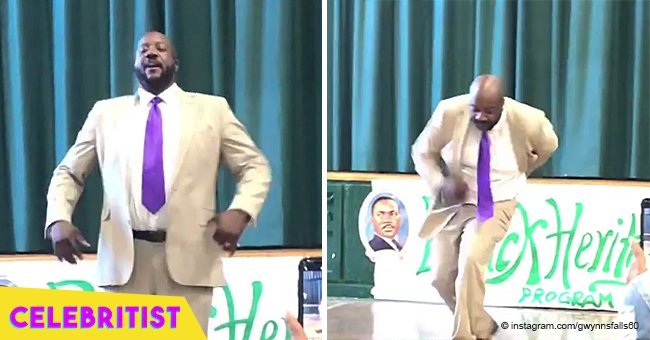 School principal wows students & guests with amazing step performance in viral video

Nikomar Mosley, the principal of Gwynns Falls Elementary School and a member of black fraternity Omega Psi Phi, surprised everybody with an energetic step routine.
In the video uploaded to Instagram, Mosley appeared wearing a beige suit with a purple tie in front of the audience during the school's annual Black Heritage Program.
For that program, each grade is supposed to do a performance or create a routine that honors an event, person, or another relevant topic in African-American history.
As a way to set the example, Mosley, whose purple tie is a subtle gesture to honor his fraternity as its member often wear purple, chose to display some of his college roots. Not only he was showing off his best moves, but also singing, to what the audience responded with cheers and applause.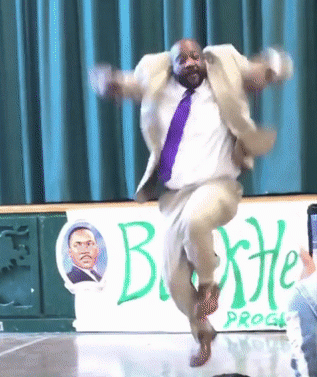 Source: Instagram/gwynnsfalls60
A GREAT SOURCE OF MOTIVATION
The man later revealed that nobody expected to see him dancing, especially not with the consistency and endurance that he showed. Mosley added that his performance was electric throughout the room and the people's energy motivated him.
Before he took over the stage, another fraternity brother and student from Coppin State University performed. After that, Mosley considered it was a good moment to talk about the fraternity's history and dance.
EXPOSURE TO COLLEGE LIFE
Apart from that, the principal set clear that one of the reasons he did those college-related activities was to expose the students to college life to "give them a view of what more they can aspire to accomplish."
The principal added that he had done different things, like playing the trumpet or participating in student-teacher basketball games to build relationships and make connections.
ANOTHER PRINCIPAL DANCING
Something similar took place during the pep rally of the football season of Lake Mary High School, where some students, member of the step team Unity Revolution, showed off their amazing routine in the middle of the gym.
Things went wild with the new principal, Dr. Donna "Mickey" Reynold, then 49, joined them and performed the routine flawlessly. The YouTube video has more than 2.7 million views in less than a year.
Please fill in your e-mail so we can share with you our top stories!