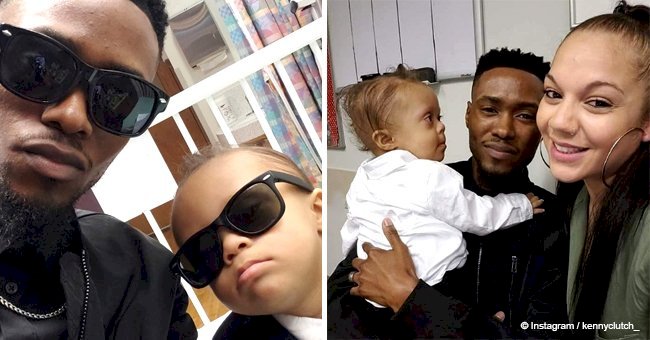 Video of dad dancing after getting good news about son's health watched over 2,8 million times

Joyous Dad dances to Ciara's "Level Up" when he gets news about his son's leukemia.
Kennith "Clutch" Thomas got the best news of his life, and he just had to dance. His 15-month son, Kristian has been fighting leukemia, and doctors told Clutch that the baby was on the mend. The video was posted on Instagram/ KennyClutch_ and quickly went viral.
Tiny Kristian had been hospitalized for 32 days after his treatment at the Children's Hospital of Philadelphia when doctors declared that he is officially in remission and winning the battle with the dread disease.
Kristian was born with Down syndrome and a blood disorder, and doctors had told his parents that there was a strong possibility that he would develop leukemia, which he did.
"When you wake up to your son's number "LEVELS UP!!" And we get to go home for a few days as he is killing CANCER!!"
Kennith "Clutch" Thomas, Instagram/ KennyClutch_ , July 26, 2018.
THE BEST NEWS IN THE WORLD FOR MOM AND DAD
Thomas and his wife Josilyne were overjoyed by the news and dad, who is a dance instructor, decided to express his feelings in a very special way.
Thomas started jiving in front of his son's hospital bed to Ciara's "Level Up" and Kristian was mesmerized. First, he started clapping, then he moved his little hands to mimic his father's moves.
R&B DIVA CIARA LOVED THE VIDEO
Ciara, who had been encouraging fans to send in videos of themselves dancing to her songs, saw the clip of Thomas dancing for Kristian and she loved it so much she reposted it on her own Instagram account.
KRISTIN GETS A CUDDLE FROM CIARA
The singer was so moved she decided to visit tiny Kristian in the hospital and meet his mother and father. She took a photo with the baby and captioned it:
"My heart can't take it watching this proud Father @KennyClutch_ dancing doing the #LevelUpChallenge because his baby's numbers were up. God is so good! We're dancing for you too angel! Let's #LevelUp against Cancer together!"
THOMAS AND KRISTIN GO VIRAL
The video of Thoma's cool moves and Kristian's cute smile have garnered over 2,8 million, and now people like Serena Williams and Chris Pratt are joining in and doing the #LevelUp challenge too.
#LEVEL UP CHALLENGE IS ABOUT COURAGE
Ciara explained that the #LevelUP challenge isn't just about the cool dance moves, it's about courage and determination, and fighting for a brighter and better future.
A PRINCESS DANCING WITH DADDY IN HOSPITAL
Another dad with a sick baby also chose dance as a way to express his love for his child.
Phoenix Thompson, 2-years-old, was diagnosed with acute myeloid leukemia on August 2, 2018, and was in the Aflac Cancer & Blood Disorders Center of Children's Healthcare of Atlanta, undergoing chemotherapy when her father, Brett Thompson decided to surprise her.
He showed up in a tux and he danced with her to Tim McGraw's 'My Little Girl.' One of the nurses filmed the lovely moment and it went viral on the Internet.
In a related story, a three-year-old cancer patient gets a musical send-off from the medical staff at her hospital when she completes her chemotherapy and goes home in remission
Please fill in your e-mail so we can share with you our top stories!