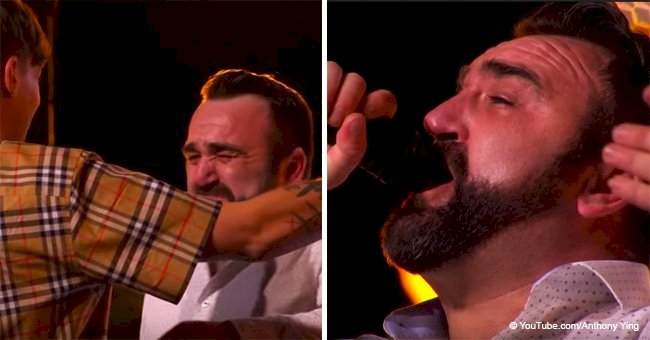 Contestant came back 17 years later to prove Simon Cowell wrong

A man Simon Cowell rejected 17 years ago refused to give up and came back a winner.
Danny Tetley had always wanted to be a singer, and 17 years ago he joined the contest "Pop Idol" and saw his dreams shattered when Simon Cowell rejected him.
But Tetley didn't take defeat lying down, and nearly two decades later he's back to on "X Factor" to make Cowell eat his proverbial hat.
The 37-year-old Bradford man performed Jennifer Hudson's "And I'm Telling You I'm Not Going" for the show's opening episode, and he had the audience on its feet - including an astounded Simon, and the audition was posted on YouTube by MusicTalent Now.
The brash Northener found an instant ally in Robbie Williams whom he captivated with his zany, upbeat personality before he even sung a note.
"I tell you what, you've brought some personality on the stage already, and thank God."
Robbie Williams, YouTube/ MusicTalent Now, September 11, 2018.
WHEN HE SANG SILENCE FELL
When Tetley stepped onto the stage, the audience presumed he was "joke" because of his extroverted manner, but when he sang the first notes, absolute silence descended.
He nailed the notoriously complex song, which Cowell had once described as " the hardest song to sing ever written" and dazzled the jury with his virtuoso vocal abilities.
TETLEY EXPLAINED HIS DETERMINATION TO SUCCEED
Williams asked him whether he's ever tried to make it in the music industry and he explained that he had entered "Pop Idol" and had been rejected by Cowell and that he intended to win because "This is my World Cup final."
THE PERFECT VOICE, THE WRONG IMAGE
Tetley attributed the rejection to the fact that at that time, the music industry had been fixated on image over talent. Tetley, with his superb voice, looks nothing like a pop star.
VICTORY AS COWELL APOLOGISES
Tetley conquered the audience with his rendition and wrung a wry off-hand apology from Cowell himself - something unheard of in his long career in talent contests.
AND ANOTHER FAVORITE RETURNS
How Tetley will proceed as the series unfolds will be keeping "X Factor" fans on the edge of their seats. He will have his work cut out for him as the favorite contestant from 2017 returns to the show.
Anthony Russell was a hot favorite to win when he withdrew from the contest for personal reasons, leaving his fans sadly disappointed.
Russel is back for the 2018 season and he is in fine fettle, and the presence of both men will present judges Simon Cowell, Robbie Williams, Ayda Field and Louis Tomlinson with some very difficult challenges.
In a related story, Lola Saunders, 20, wowed X-Factor judges with her heartfelt rendition of the classic hit, "Make You Feel My Love."
Please fill in your e-mail so we can share with you our top stories!