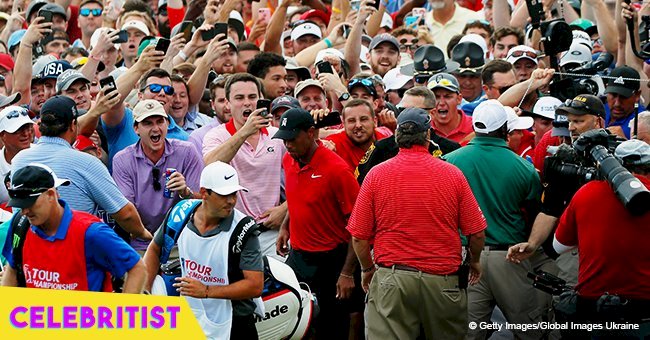 Tiger Woods disappears inside a sea of cheering fans after his first victory in five years

For a moment at the PGA Tour Championship on Sunday, golf legend Tiger Woods was lost in a sea of cheering fans as he strode toward the eighteenth green.
Woods' historic Sunday win was his first in five years, and as it turned out, he was not the only one happy about it. His ardent fans who lined the East Lake, Georgia venue, spilled onto the 18th fairway, almost running the champion over as he prepared to claim his victory.
Footage of the milling crowd has been making the rounds on social media since Sunday. Not too long after, the man of the moment holed his final putt and sealed his win.
The 42-year-old headed first for his girlfriend, Erica Herman. The couple exchanged kisses and a hug, with Woods telling her "I love you." Herman and Woods have been dating for over a year, and she manages his restaurant in Florida.
Sunday's triumph is a perfect gift for Woods who has had it quite rough in the last couple of years. After multiple back injuries and surgeries left him without a win since 2013, the acclaimed golfer also suffered a humiliating DUI arrest last year.
Speaking of the moment when he got lost in the crowd, Woods said jokingly:
"I didn't want to get run over. All of a sudden it hit me that I was going to win the tournament. I started tearing up a little bit. I can't believe I pulled this off."
Meanwhile, Woods' comeback win threw social media into a meltdown, especially with congratulatory messages for the champion.
Jack Nicklaus, the golfer whose record Woods aims to beat, tweeted:
"My congratulations to @TigerWoods on winning the @playofffinale! I am very happy for him and extremely proud of him. Tiger has worked very hard to get to this place, and has played very well all season."
Another fellow golfer, Tommy Fleetwood, echoed:
"Everybody watching at home, everybody that was right there when it happened. We've just witnessed the greatest comeback of all time! What a time to be alive!!"
Woods' niece, Cheyenne Woods found the scene emotional and said as much:
"You can't help but be emotional watching this. Tiger has worked so hard, this is a special one."
Please fill in your e-mail so we can share with you our top stories!