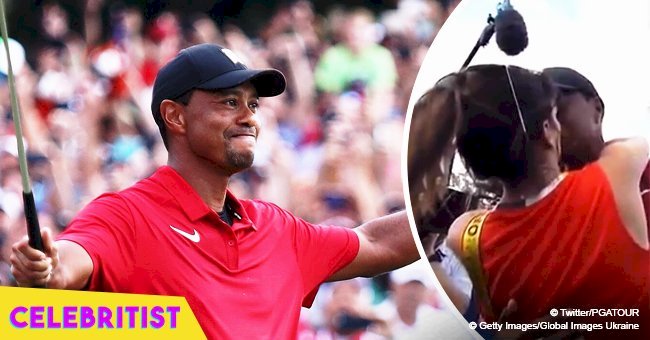 Tiger Woods celebrates his historic comeback victory with a kiss from girlfriend

Internationally acclaimed golf star, Tiger Woods won his first victory in five years at the 2018 Tour Championship. The 42-year-old, who has had it rough this past couple of years, chose to celebrate the occasion with a kiss from the woman in his life.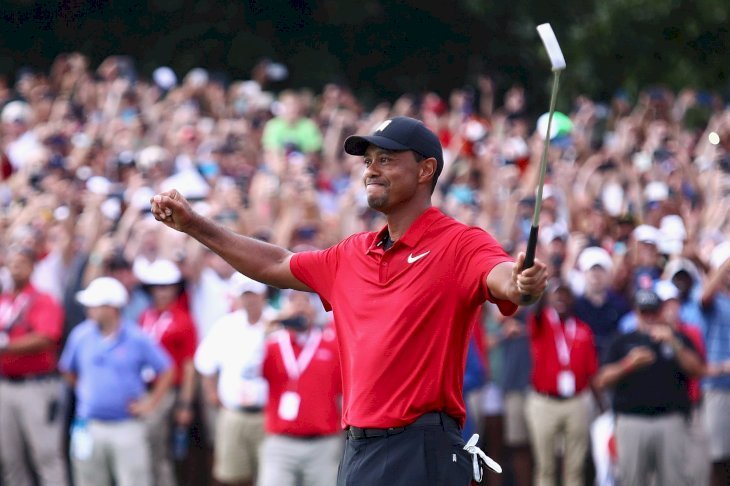 Getty Images
Woods clinched his victory at the FedEx Tour Championships yesterday with a final round 71 and a two-stroke win over Billy Horschel. It was Woods' first win after his 2013 victory at the WGC-Bridgestone Invitational.
Since 2013, Woods has suffered setbacks arising from injury and a humiliating arrest, but now, the former World Number One seems to have found his footing. That likely has something to do with Woods' new lady-love, who he raced to kiss after the historic win.
LOVE AND GOLF
While the crowd cheered him on, Woods had eyes for only one person: Erica Herman. Woods found his way to the side of 18th green where he openly smooched Herman. He also whispered an "I Love You" to the woman who easily returned his gesture.
Herman, 33, and Woods were spotted together in September 2017 at the Presidents Cup in New Jersey. Herman was wearing a shirt given to wives and girlfriends of the golf players, so the message was pretty clear.
A LOVE FOR STORMY WEATHER
Since then, the beauty, who formerly managed Woods' restaurant, "The Woods Jupiter" has been a constant fixture by the athlete's side. Herman has even gotten to meet Woods' children, 11-year-old daughter Sam and 9-year-old son Charlie, whom he shares with his ex-wife, Elin Nordegren.
Herman was also at Woods' court appearance in 2017 when he pleaded guilty to a reckless driving charge. Woods was arrested in May after Police found him asleep at the wheel of his parked car in Florida. Subsequent testing revealed he had five drugs in his system.
The humiliating arrest came at a time when the champion's game was at its lowest. Woods had been battling a series of back injuries and undergoing surgeries that left him unable to perform at his best, but Herman remained by his side.
THE SUNSHINE AFTER THE RAIN
Following yesterday's win at East Lake, Georgia, an overwhelmed Woods tried to hold in his emotions as he said:
"I just can't believe I pulled this off after the season I've gone through. It's been tough. It's not been easy the past couple of years. I've worked my way back and I couldn't have done it without the help of everyone around me."
Wood's win sent the internet into a meltdown as fans took to Twitter to celebrate the momentous victory.
Meanwhile, People reported in April that although Herman and Woods are not in a hurry to get married, the golf star has a soft spot for his lady.
After parting ways with his ex-wife in 2010 following cheating allegations on his part, Woods previously dated Olympic medalist Lindsey Vonn from 2012 to 2015. He also dated stylist Kristin Smith from 2016 to 2017 before pairing up with Herman.
Please fill in your e-mail so we can share with you our top stories!