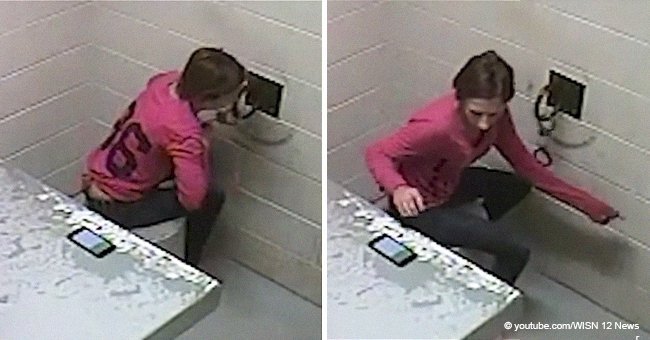 Woman slips out of cuffs only to be rearrested at same hotel where she was accused of stealing
Surveillance footage showed a woman slipping out of handcuffs and escaping a police station in Wisconsin. Reports revealed she went back to the same hotel she was arrested in.
Amber Gonzales was accused of stealing a phone at a hotel in Waukesha. She was later on arrested by the police and was taken into custody.
While being held in the holding cell, the 30-year-old can be seen attempting to escape from her handcuffs in the released footage from the booking room cameras.
The police have left her alone with her phone as she was trying to arrange bail and get a ride home.
Follow us on Twitter at AmoMama USA for more details and updates.
In between checking her messages, Gonzales is seen tugging at her cuffs. The police claimed they were on the tightest setting.
Still, Gonzales was able to set her hand free from the cuff and was able to escape the holding cell and successfully went out of the station without being noticed.
As revealed by the complaint obtained by WTOL11, the suspect was able to walk through yards and proceeded to a gas station where she waited for a truck driver to pick her up.
It was the same man who was with her at the same hotel she was arrested in. Allegedly, the man paid her for sex before the arrest.
An employee of the gas station said, "She was hiding in the pine tree behind our building."
The police eventually re-arrested Gonzalez within an hour following her escape. A staff member at the hotel tipped them that she had returned.
Gonzales was booked into the county jail, but she was later bailed out.
As for the escape, the Waukesha police said it was "a truly isolated incident. It's never happened before. It's all about fixing it to make sure it doesn't happen again."
Gonzales was charged with misdemeanor theft, possession of drug paraphernalia, escape, and prostitution.
For the first criminal complaint, Gonzales allegedly stole a phone from the housekeeper's cart at the hotel she was in with the truck driver. Surveillance footage at the establishment proved the incident.
In another news, in 2014, a woman who escaped from a Michigan prison was found under a new identity in San Diego after almost 37 years.
According to the New York Post, Judy Lynn Hayman was initially arrested in Michigan for attempted larceny.
Please fill in your e-mail so we can share with you our top stories!