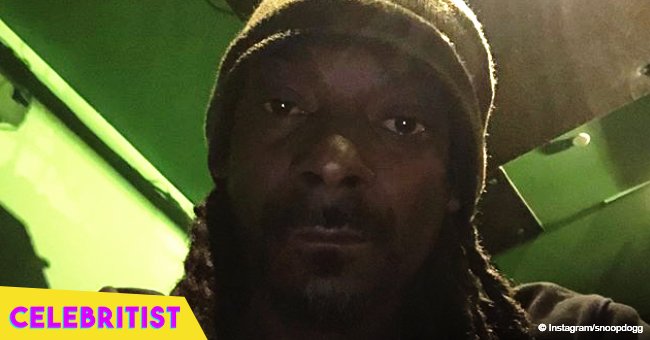 Snoop Dogg gushes about his granddaughter's beauty as she sleeps peacefully in sweet video
Snoop Dogg became a grandfather for the second time last month, and he recently gushed over his adorable granddaughter by sharing a video of the baby girl sleeping on her crib. The girl is the second daughter of Corde "Spank" Broadus, Snoop's eldest son.
The rapper has shown in many occasions that despite his fierce appearance when it comes to family, he has a soft side. A man of family, Snoop Dogg has always made sure to put his sons and wife at his number priority in life.
In a recent Instagram post, Snoop officially introduced the newest member of his family to his fans and followers, and he melted hearts all over social media with it. The short clip shows a baby girl peacefully sleeping on her crib and draped with a fluffy pink blanket. The baby has thick black hair and seems to be wearing only diapers while resting.
"My 1st granddaughter lovely day be blessed y'all," the rapper captioned the video.
Fans immediately filled his comment section with blessings for the adorable tot. "What is your lovely granddaughter's precious name so beautiful she is," wrote one fan; and another added, "She's soo adorable Snoop!#congratulations many wonderful blessing and much joy!"
The girl is the second child of Corde Broadus, and her mother is spiritual guru Soroya Love. She was named Eleven, and according to Soroya and Corde, she was born through a completely natural process, as her mom didn't take any drugs through the birth.
In the first pic Love shared of her daughter, she wrote:
"Happy 5 day existence to 11 Love, the birthing experience has humbled me to thank all mothers for going through this transformation, it Takes POWER, PATIENCE, STRENGTH, UNCONDITIONAL LOVE to get through labor. I don't care what beef any of you have with your mothers, what she went through to get you here takes courage so let's ALL praise THE MOTHERS WOMBS THAT GOT YOU ALL HERE!!!"
Eleven has an older brother, Zion, who was born in 2015 to Broadus and his then-girlfriend, Jessica Kyzer. At the time, Snoop Dogg was more than happy about becoming a grandfather for the first time, and he told Today in an interview what type of grandfather he was going to be, saying:
"I'm going to be a gullible, get-away-with-everything kind of grandpa. It's just a spark of joy to just look into his eyes and to be able to hold him. I thank my oldest son for making me a grandfather."
Please fill in your e-mail so we can share with you our top stories!