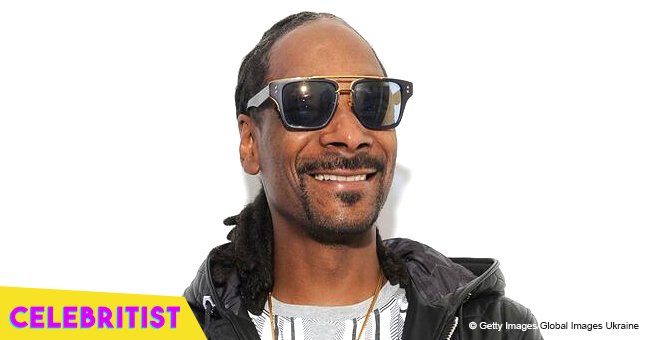 Snoop Dogg's newborn granddaughter melts hearts with her head full of hair in adorable pic

Snoop Dogg's son shares an adorable photo of the rapper's new granddaughter on the morning of her mother's birthday.
Snoop Dogg recently welcomed his second grandchild courtesy of his son Corde Broadus and the little girl named Eleven has been stealing hearts since then. In her latest photo, she cuddles against her mother, Soroya Love, and she's ten kinds of adorable.
Eleven was born in August, a new sister to Corde's older son Zion born in 2015. Upon her arrival, her parents shared their joy on social media. Corde posted a beautiful image of the baby feeding from her mother while Soroya introduced her to the world through a video where she speaks about the joys of her natural childbirth.
Eleven is a testament to her mother's strength having delivered her without any drugs. Her husband praised her for the amazing feat when he introduced his daughter to his Instagram followers.
Now a month later, he pays tribute to her on her birthday with a sweet mother-daughter photo posted on his social media.
"Can y'all go send my love positive vibes and lots of love on her birthday today," Corde wrote to accompany the lovely photo of his family cuddling in bed. Soroya and her daughter appear to have just woken up as their eyes and the word "morning" scrawled across the photo hinted at it.
Little Eleven, dressed in a white onesie has her eyes focused on the camera though she looks like she's about to doze off again. She's head to head with her mother whose dark hair resembles her thick dark locks. The cute pic earned lots of birthday greetings as well as praises for the mother and child.
Just a week ago, Corde delighted fans with a video showcasing his daughter smiling while sleeping. He had just put her to bed at 5 am when he decided to capture the quiet moment and chanced upon the little girl grinning while in deep sleep. Eleven looked so beautiful in her restful state it's no wonder her parents have been taking turns tending to her during her slumber.
Meanwhile, Corde's father, Snoop Dogg has yet to debut his new granddaughter on his Instagram. When Zion was born and he became a first-time grandfather, he shared a video announcing the boy's arrival. In the clip, Corde is holding the brand new baby while his father captured the milestone.
"Proud grandad," Snoop wrote, before adding, "My son spank n grandson Zion!! Jah bless."
Please fill in your e-mail so we can share with you our top stories!