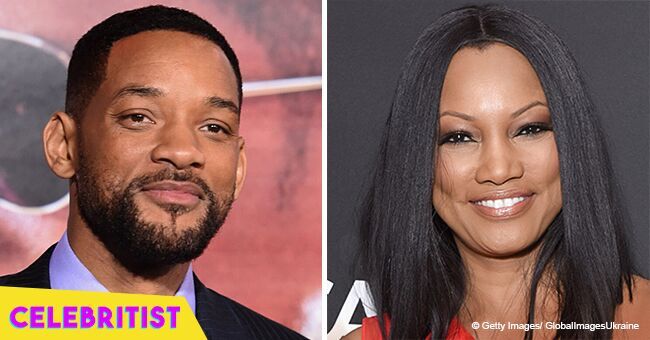 Garcelle Beauvais is under fire for sharing a photo of her kissing Will Smith on his 50th birthday

Garcelle Beauvais greets Will Smith a happy birthday through a steamy photo kissing the 50-year-old. Twitter followers felt how inappropriate it was, and the actress received some backlash which made her feel the need to post an apology.
An issue arose on social media as Garcelle Beauvais posted a photo of her passionately kissing Will Smith, as a greeting for the actor's 50th birthday. The photo was posted on Twitter and quickly gained attention seeing as it was "disrespectful" to Jada Pinkett-Smith, Will's wife.
The photo which was taken from the scene of the movie "Wild Wild West" had the caption:
"A birthday kiss for the birthday boy #willsmith happy 50th"
While it was from a movie that the two of them previously worked on, many found it offensive as it seemed inappropriate for her to post that especially since Will is married.
Jada once told HuffPost Live:
"I've always told Will, 'You can do whatever you want as long as you can look at yourself in the mirror and be OK. Because at the end of the day, Will is his own man. I'm here as his partner, but he is his own man. He has to decide who he wants to be and that's not for me to do for him. Or vice versa."
The couple runs a relationship of mutual respect and responsibility, which does make the post a bit disrespectful.
Social media users wanted Jada Smith to respond to the tweet, maybe even causing a feud between the two. However, the Smith family seemed to be celebrating Will's birthday the best way they can. Jada even posted a clip of her husband bungee jumping out of a helicopter, and captioned it:
"Here is what I love most about you turning 50 @willsmith… you are soaring high in your freedom and have more authentic happiness then I've ever seen you have before. You deserve every but of it! Keep flying and keep doing you! Happy Birthday Willard!!! You make 50 look good!!!"
They have never made any issue break the strong bond that they share, and even though there is a lot of noise that surrounds their lives due to their busy lives as celebrities, they've never let it affect them.
After a series of hate and backlash, Garcelle eventually followed the thread with an apology saying:
"Ok guys it was supposed to be a funny post My bad if I offended anyone ! If you are my followers you know I'm all about lifting up people and being positive being human I made a mistake… Have a beautiful blessed day."
Just a few days before Will's birthday, the Smith family celebrated Jada's 47th birthday last September 18. They ended up going on a Safari trip in LA, where they spent some quality bonding time with their grown kids.
Now that Will is 50, there is no doubt of him relaxing even more with his loved ones, making the most out of his time with them.
Please fill in your e-mail so we can share with you our top stories!