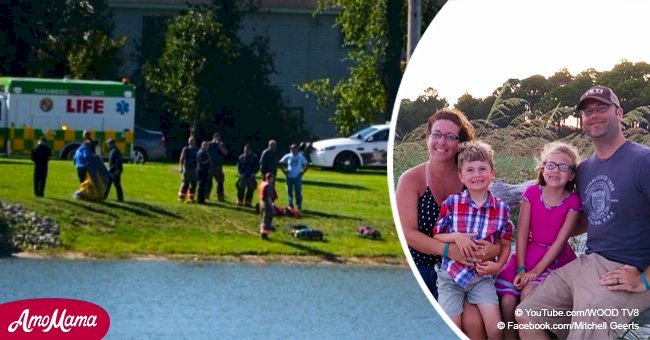 Mother of two risks her life to rescue a man drowning in his car while her children watch

An off-duty Michigan security officer risked her life to save a drowning man.
Michigan mother-of-two Tamy Geerts saw a car sinking into a man-made neighborhood lake, and she didn't stop to think twice before she lept to the rescue, reported WoodTV.com on September 24, 2018.
It was a Saturday afternoon and her two children were in the car when Geerts, a security officer for Grand Valley State University, saw a car in the water at the Placid Lake Community, near the intersection of Lake Michigan Drive and 84th Avenue, in Allendale Township.
"My daughter was a little scared but she's like, 'Mommy, you're a hero. It makes you feel good, but I'm not a hero. Anybody would do it."
SHE DOVE IN TO SAVE THE MAN TRAPPED IN THE CAR
Leaving her 6-year-old son and 9-year-old daughter in the SUV, Geerts took off her socks, her shoes, and her eyeglasses and dove into the water.
She found a man sitting in the sinking car, with the water already reaching up to his waist. The man was unresponsive, and Geerts had to drag him out of the flooded vehicle.
GEERTS HAD TO GET THE VICTIM OUT THROUGH A BACK WINDOW
The only exit point was the back window, and Geerts encouraged the man to climb into the back so she could get him out. Throughout the rescue, the victim was quiet and did little to help her get him to safety.
EMERGENCY TEAMS HELPED GEERTS GET THE MAN TO SHORE
By this time, much to Geerts' relief, first responders arrived at the scene and helped her get the unresponsive man to safety.
SHERIFF'S DEPARTMENT SAID ALCOHOL AND DRUGS WERE NOT FACTORS
According to Geerts the man never seemed fully aware of what happened to him. He was taken away in an ambulance for observation at a local hospital.
"I'M NO HERO, ANYBODY WOULD DO IT."
Praise for her courage and quick thinking shower in from around the world, but Greets refuses to take credit for being a hero. She believes that anyone in the same situation would have done exactly the same.
Geerts is not the only brave woman saving lives. A video has been released showing a woman preventing a man from jumping in front of a train, and risking her own life to save his.
In the clip, which has been posted online, a passing couple notices a man in distress. As he puts his head in his hands, the couple stop and the woman begins to approach him. At that moment, a Virgin train approaches the platform and the man appears to intend to jump in front of it.
The woman leaped forward and tacked the man, preventing him from flinging himself on the tracks.who remains on the platform on the floor thanks to the woman's heroics.
The video has gone viral on social media, but British Transport Police is still investigating to ascertain if the clip is genuine.
In a related story, mother of 2, Tia Withers, rescued a woman and a boy, who had been kidnapped and driven hundreds of miles to Central Ohio.
Please fill in your e-mail so we can share with you our top stories!