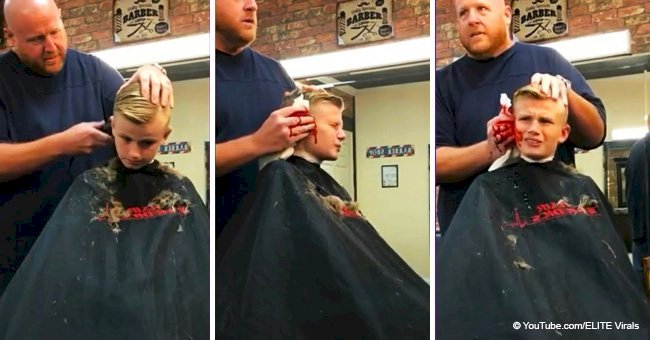 Barber plays hilarious prank on a kid
A barber Jude Sannicandro of Naples, Fla. played a prank on youngster Vito DiPalma, a family friend and customer of Jude.
10-year-old Vito had previously played a prank on him and he wanted to one-up Vito. He spoke to Vito's parents before he pranked him to get their permission. However to appreciate Jude's prank and the motivation behind it one has to look at how Vito pranked the barber, Jude.
HOW VITO PRANKS JUDE
Two months ago Vito scared Jude by placing a fake cockroach on the counter in the barbershop. The 43-year-old barber said:
"It scared the crap out of me, especially because earlier that day, there was a real cockroach in our bathroom. I told Vito that he opened a can of worms, but he said he wasn't scared and was too old to cry,"
Read more on our Twitter account @amomama_usa.
By using a lot of fake blood, a latex ear and a poker face Jude pranked Vito while giving him a trim at his barbershop. In the clip taken on July 27, Jude can be heard warning Jude:
"Be careful, this is a real sharp one, OK?"
Before adding:
"Oh don't move."
Jude starts with the trim of Vito's hair and it is not long before Vito asks him looking a little concerned:
"Am I bleeding?"
Jude replies:
"Hmm maybe a little"
Jude then grabs a handful of tissues which conceals the fake blood while asking Vito if it hurt, and he says 'a little.'The 'blood' begin to flow and Jude begs Vito not to tell his mother also adding that he thinks they need to call an ambulance.
In another prank a mother inspired a different reaction using a prank to surprise her son on his birthday, for more on this follow the link to see what tears of joy this mother brought to her son, unlike what could be going through Vito's mind.
Vito acts like a trooper and tells Jude that a 'band-aid' might do the trick. But then Vito's 'ear' falls off and the sheer panic is visible on his face. By now Vito is asking or his mother and Jude is playing the part of the worried adult well.
After a short time, Jude puts the boy out of his misery and tells him it's all a prank. Sometimes pranks can go too far, for example, when parents Heather and Mike Martin pranked their children by screaming at them and breaking their toys.
They created a YouTube channel where they regularly uploaded videos of them pranking their children. But their actions had consequences, and to read what they were, follow the link for the full story.
Source: YouTube/DaddyOFive
Please fill in your e-mail so we can share with you our top stories!